Top Stylish Groom Mehendi Outfits For An Impressive Mehndi Look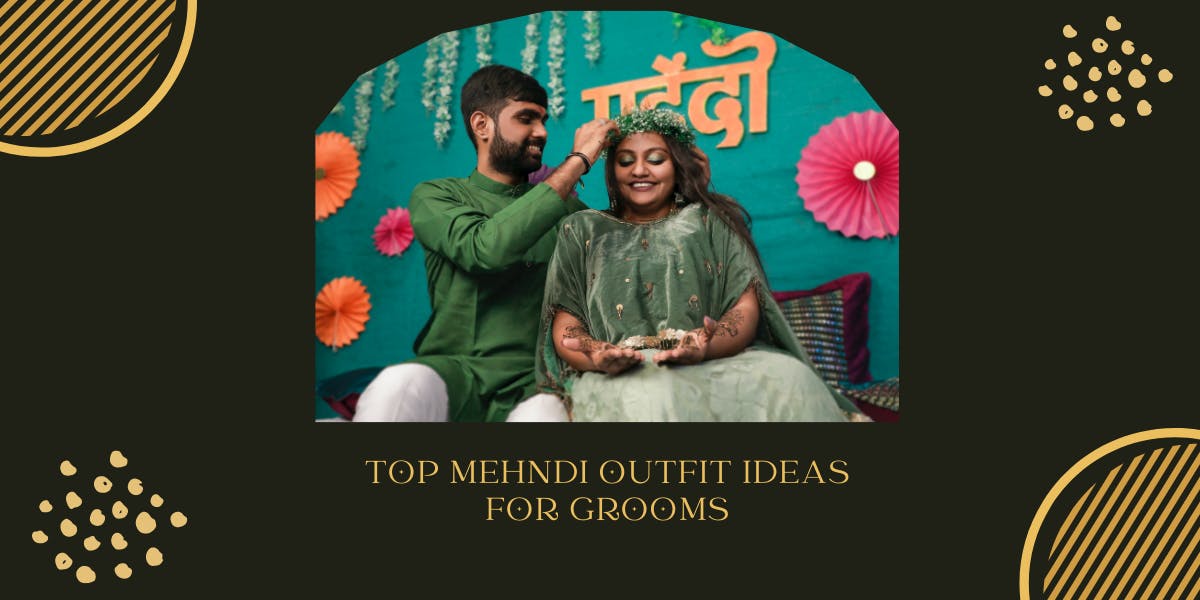 Check here the most stylish and peppy groom mehendi outfits that you must try to get the feel of most charming groom in your mehendi ceremony pictures.
The significance of the Mehendi ceremony in India dates back centuries. This traditional wedding ritual takes place before the actual wedding. All the friends and close ones of the groom and the bride crack jokes sing together and do dance performances. On the other side, the bride and groom sit down to apply the mehndi design on their hands and feet. However, most people associate the mehndi ceremony with only bridal attire, but applying mehndi on the hands of the groom has also been an age-old practice in our country. The color of henna is considered auspicious for both the bride and the groom.
Wedding spotlights usually fall on a bride and her stunning makeup, but modern grooms have also upped their style game to be the fashion icon at their wedding. Awarded as one of the best wedding photographer in kolkata, we have got multiple chances to visualize Indian weddings. Nowadays, Indian grooms are giving equal competition to the brides in the matter of style and dressing sense. They are keeping up with the latest trends and experimenting with their wedding outfits. Every Indian groom-to-be wants to look their best at the fun-filled celebration of the mehndi ceremony. So, if you are a groom-to-be who wishes to be the style icon at your mehndi event, then you must read this quick and amazing guide on top stylish groom mehndi outfits.
1. The Statement Suit & Pants
One of the most classic outfits for Indian grooms is the royal pantsuit. These stylish outfits represent royalty and charm in the groom's mehndi look. You can pair this stylish dress with black leather shoes and a statement watch which will perfectly complement your bride's ethnic wear.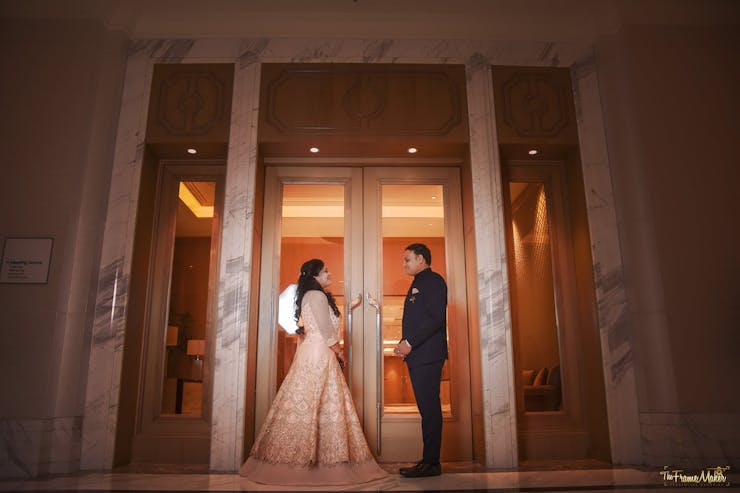 Recommended: 9 Best Pre Wedding Photoshoot Locations In Kolkata
2. Classy Achkan And Dhoti - Best Groom Mehendi Outfit
If you want to try a stylish mehndi outfit to make a statement at your special event then you must try the trendiest ethnic wear called achkan. This traditional knee-length jacket is a wonderful fusion of kurta and sherwani. You can opt for an elegant hue like ivory or creamish white to steal the limelight of your wedding event. Make sure to wear a contrasting color dhoti with this stylish outfit which will make you stand out.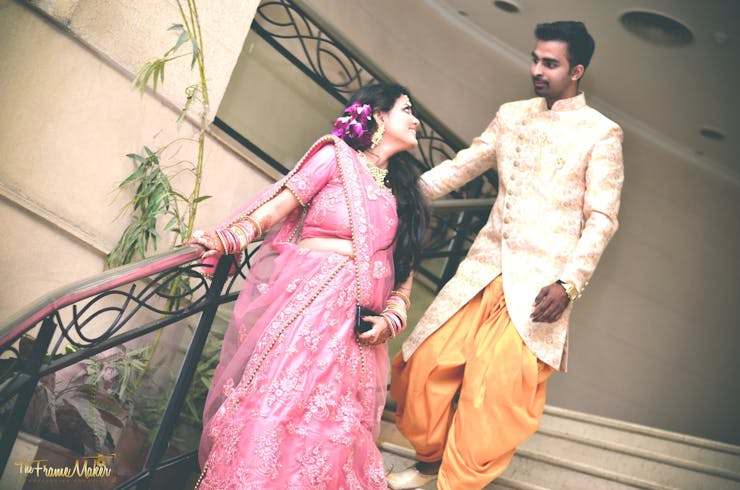 Also Check: Everything You Need To Know About Marwari Wedding Rituals
3. Opt For An Embroidered Kurta
If you are looking for a comfortable dress for a summer Mehendi event then you must try the breezy and stylish embroidered kurta which looks absolutely iconic in any Indian wedding event. Ask your kolkata wedding photographer to take a couple pose in this wonderful outfit to create everlasting memories.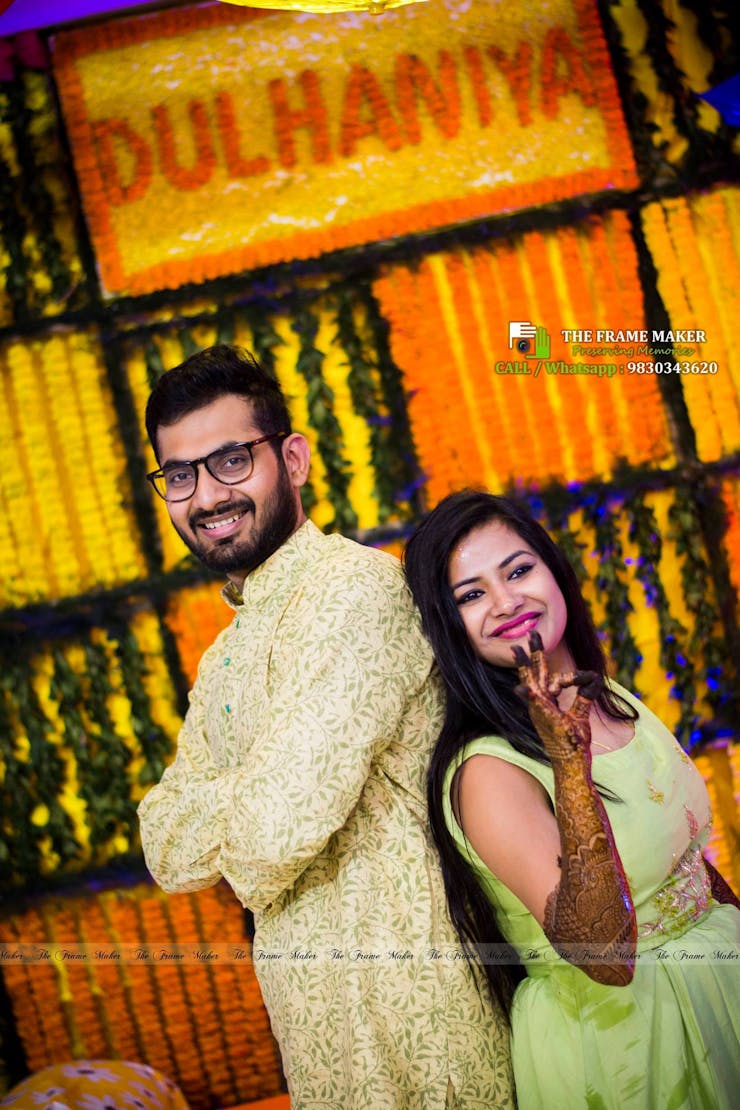 4. Go For The Stylish Nehru Jackets
The quirky Nehru jackets are the most amazing and eye-catchy option to look like a royal prince in your mehndi event. This printed Nehru jacket in red hue is beautifully complementing the peach color of the kurta. This is the most trending dress for groom that you must definitely get all the attention in your mehndi event.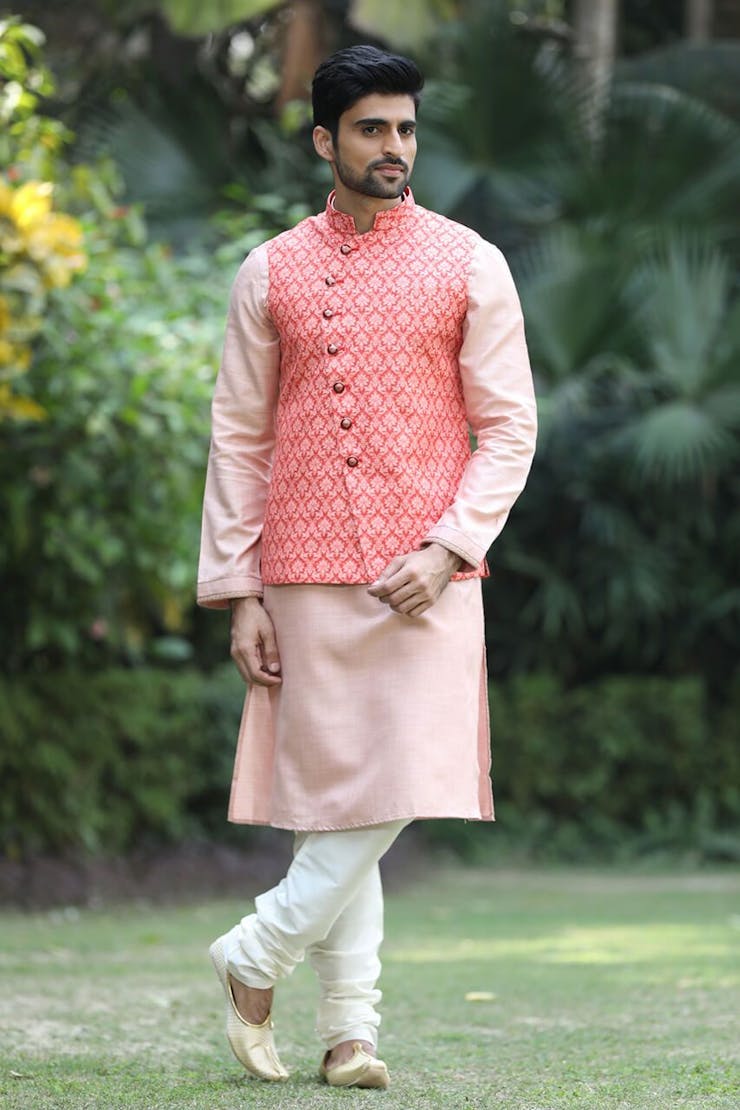 5. Express Regality With Silk Sherwani
Sherwani is the most popular choice among grooms in our country. This is the most classy and regal mehndi ceremony outfit ideas to grab the eyeballs of your guests. A silk sherwani in pastel shades looks captivating on an Indian groom. Pairing this outstanding dress with a matching stole and mojri will make you look more appealing.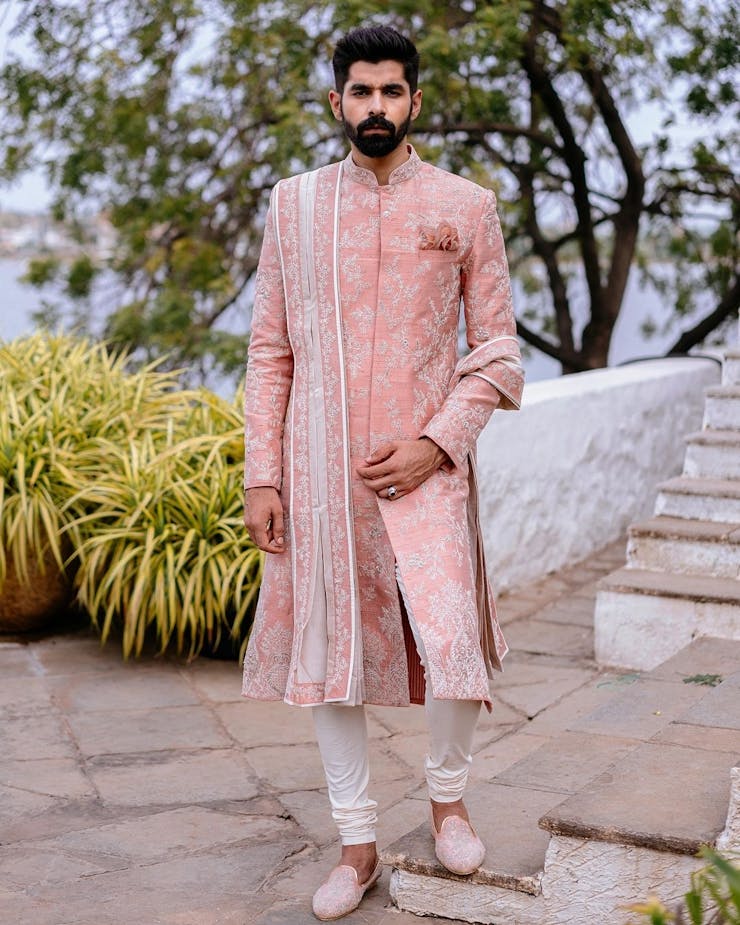 6. Give A Try To The Lively Pastel Outfits
Pastel shades are the perfect choice for summer wedding events. Vibrant and sophisticated these brighter hues can provide you with a fresh feel and an elegant look in your Mehendi event. Whether it's a pastel kurta or a stylish gala bandh, all looks mesmerizing in the daylight and hence make it one of the prettiest mehndi outfit ideas for groom.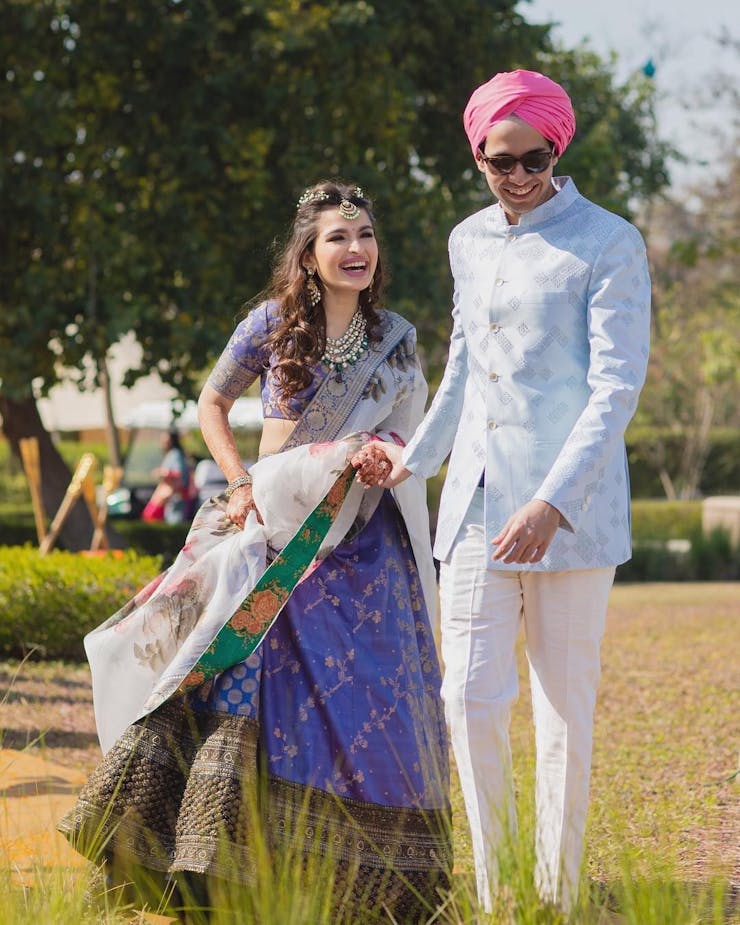 7. Show Your Swag In A Floral Kurta
A floral design mehndi kurta for groom is the trendiest option in this wedding season. The stupendous design on the kurta and the bright red jacket makes the mehndi event brighter. We totally loved the amazing contrast of this groom's outfit which is a wonderful combination of style and sophistication.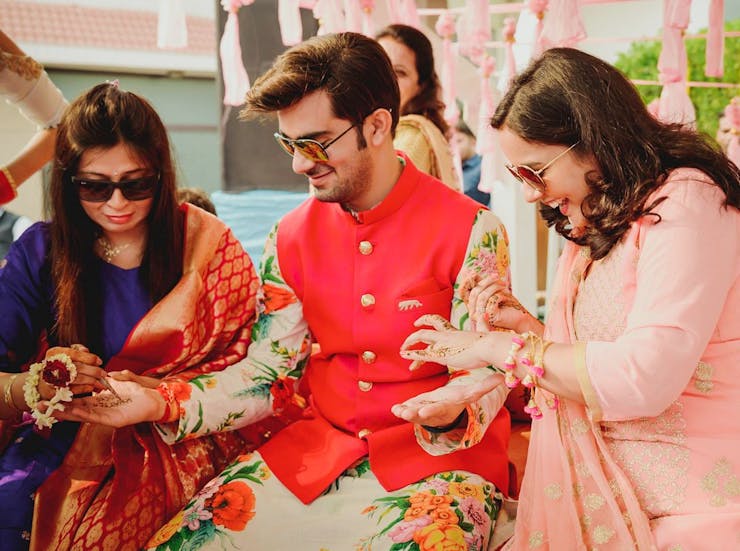 8. Keep It Minimal With A Plain Kurta
A kurta is one of the most traditional mehndi ceremony dress ideas. A simple and elegant kurta offers you a fresh feel in your mehndi look. Choosing a bright shade like neon or lime-yellow can leave a great impression in your mehndi pictures.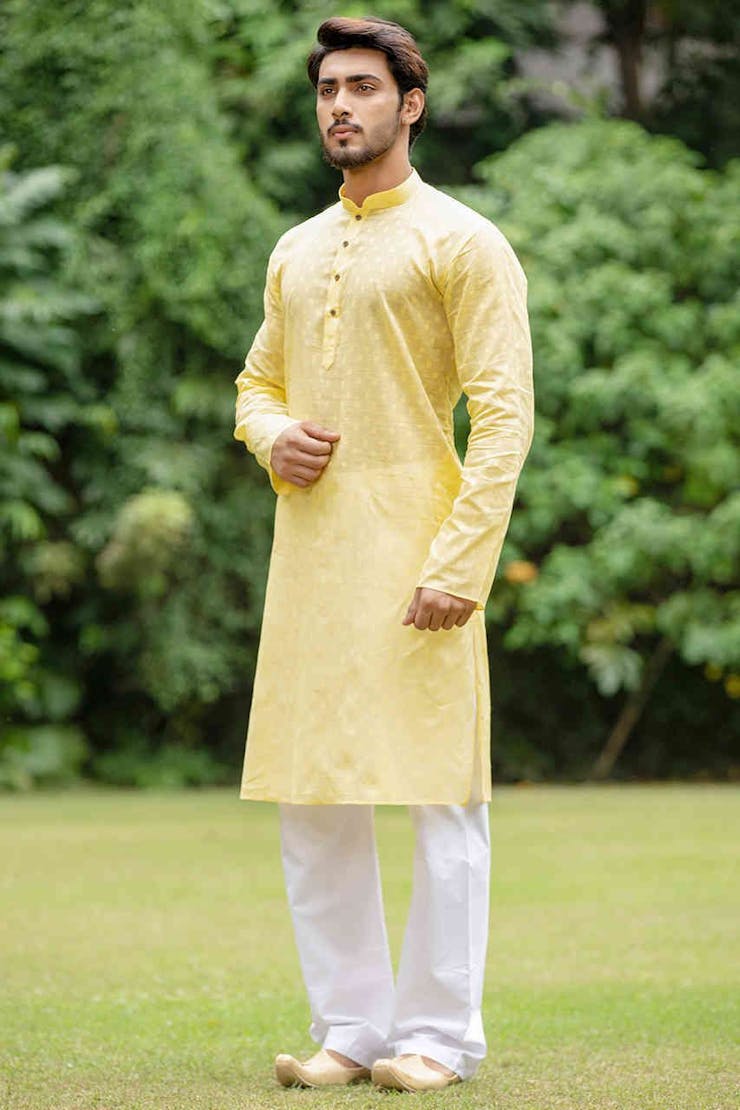 9. Steal The Show With Coordinating Outfits
 If you want to try something super adorable and unique in your mehndi look then you can choose the coordinating dress which is the modern mehndi outfits. Pick two contrasting shades that both of you love and ask your designer or tailor to make a matching outfit using the same fabric.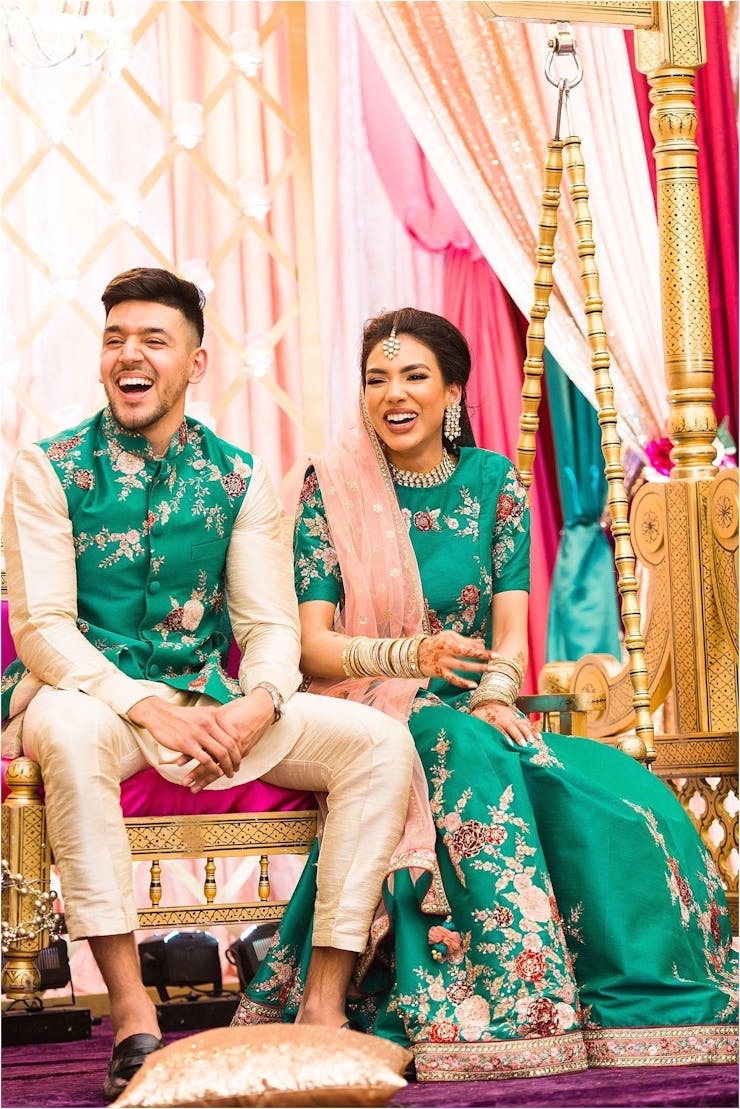 10. Make A Statement With Embroidered Gala Bandh
 You can never go unnoticed in a wedding event if you choose a Jodhpuri gala bandh. This Jodhpuri mehndi suit for groom adds a regal charm to your look. This is a kind of ethnic formal wear that originated from the raj gharanas. An embroidered gala bandh in beautiful shades of green and golden perfectly flaunts your mehndi look.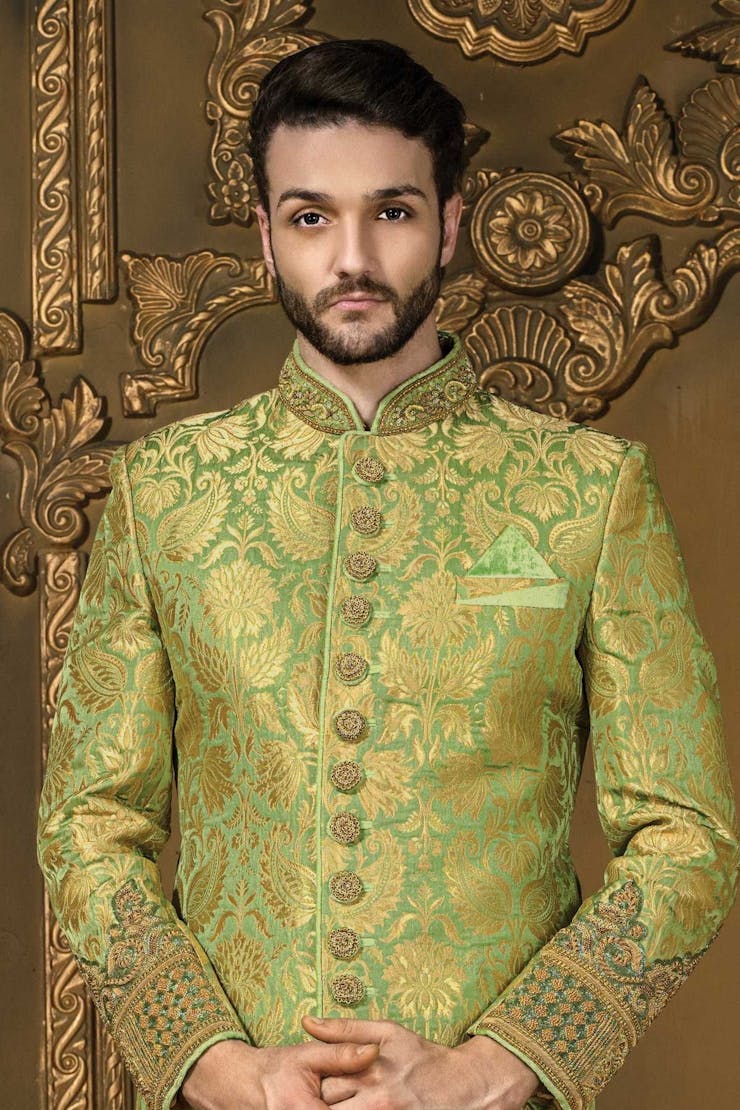 11. The Evergreen Charm Of Dhoti & Kurta
Indian dhoti & kurta is another amazing option to flaunt your ethnicity in your wedding pictures. Opting for a Bootidar kurta with white dhoti pants is a most stylish option for a vibrant mehndi function accessorize this statement outfit with a pair of tinted glasses to take your mehndi look to the next level.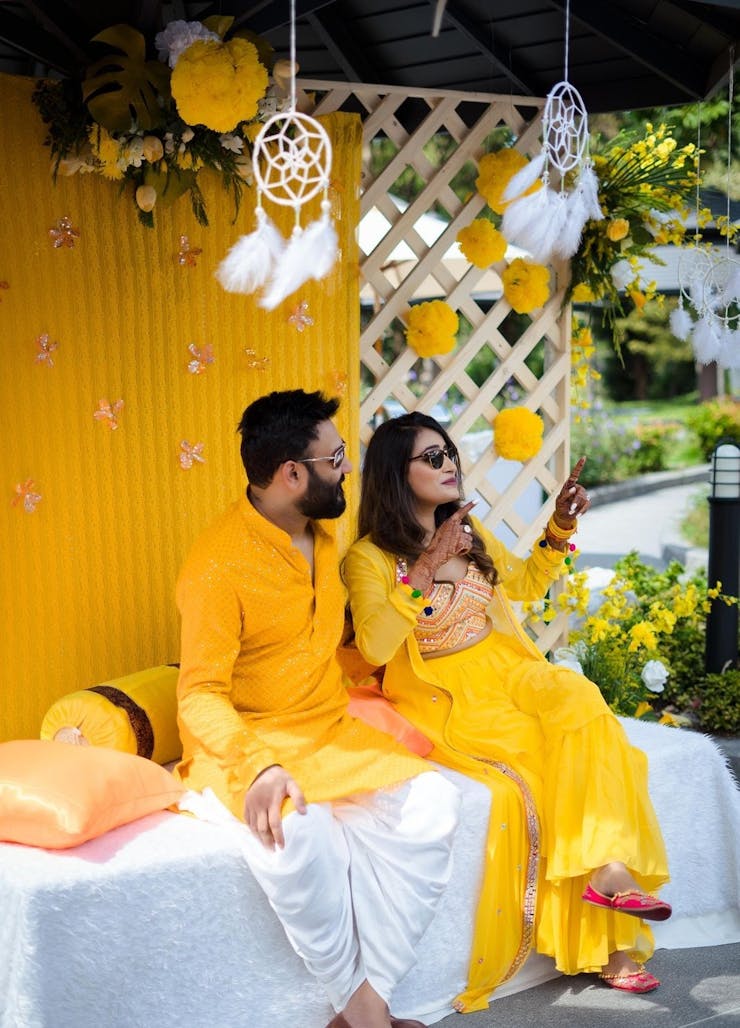 12. A Sparkling Glory Of Mirror Achkan
Another classic outfit option for the groom in a mehndi function is the latest mirror work achkan. The mirror work achkan adds a festive feel to your mehndi look. You can choose pastel or ivory shades achkan to make a statement in your mehndi ceremony.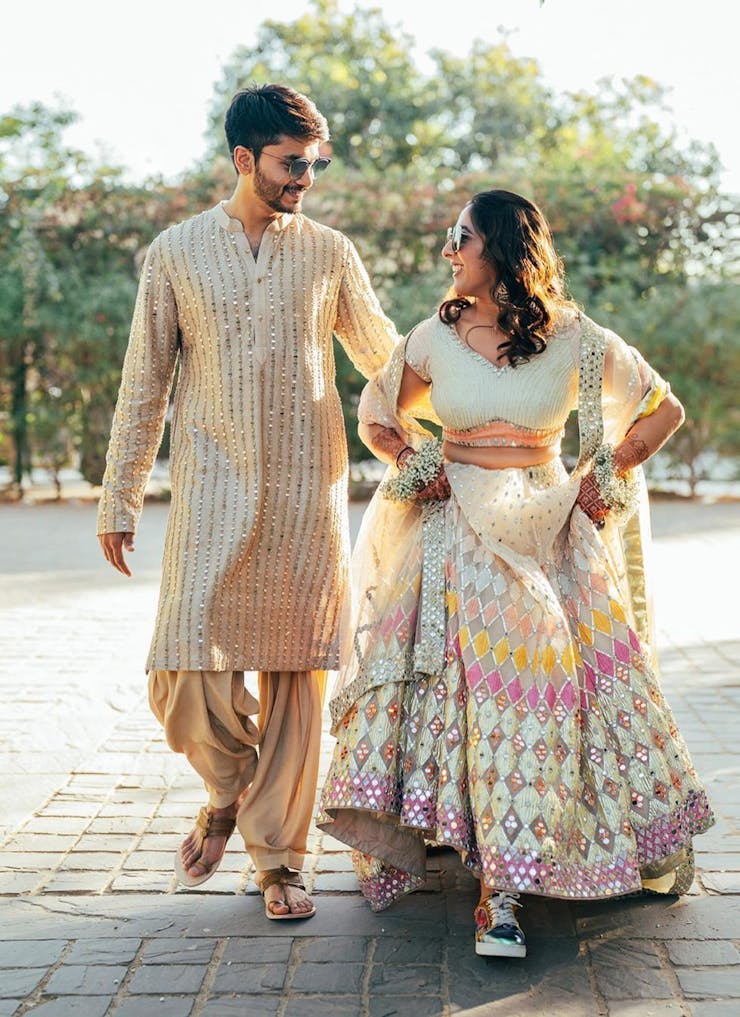 13. Ultimate Sophistication Of drapes Kurta 
One of the most innovative options for modern Indian grooms is the drapes kurtas. The unconventional look of this outfit is the epitome of modernity. The voluminous drapes in the lower portion of the kurta are the modern twist in your ethnic wear that is perfect for an eye-catchy groom pose.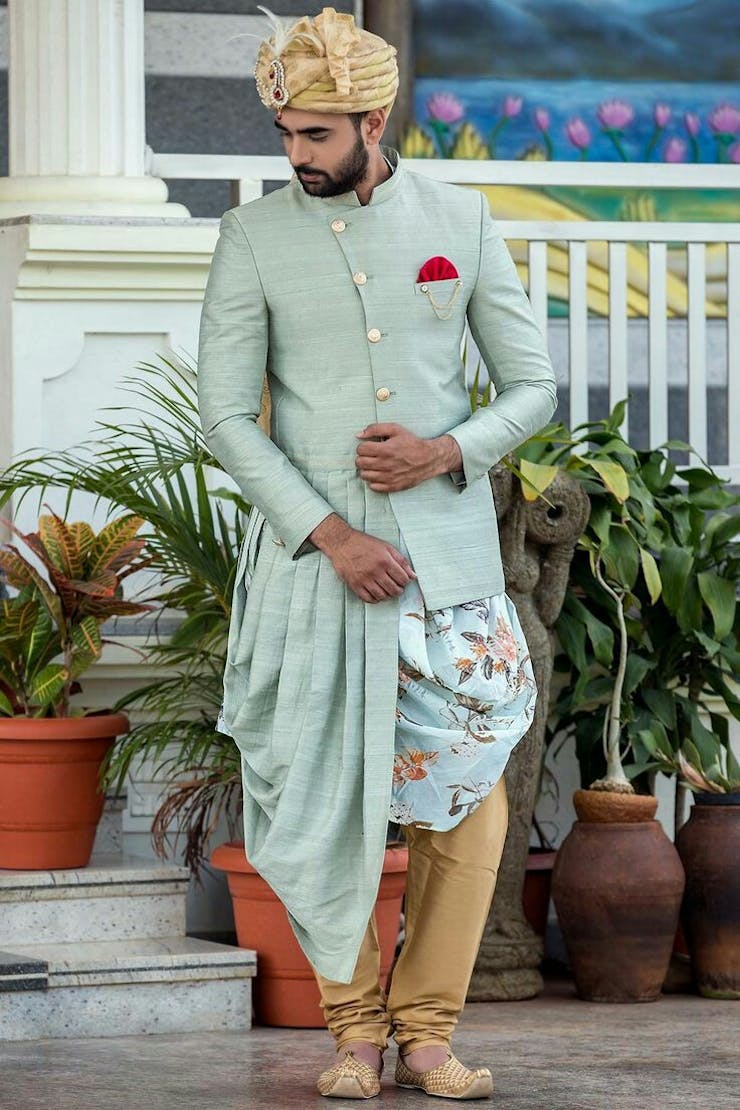 We hope that you have found your dream mehndi outfit that matches your fashion style. Stay tuned for more interesting blogs on wedding trends and ideas.