9 Best Pre Wedding Photoshoot Locations In Kolkata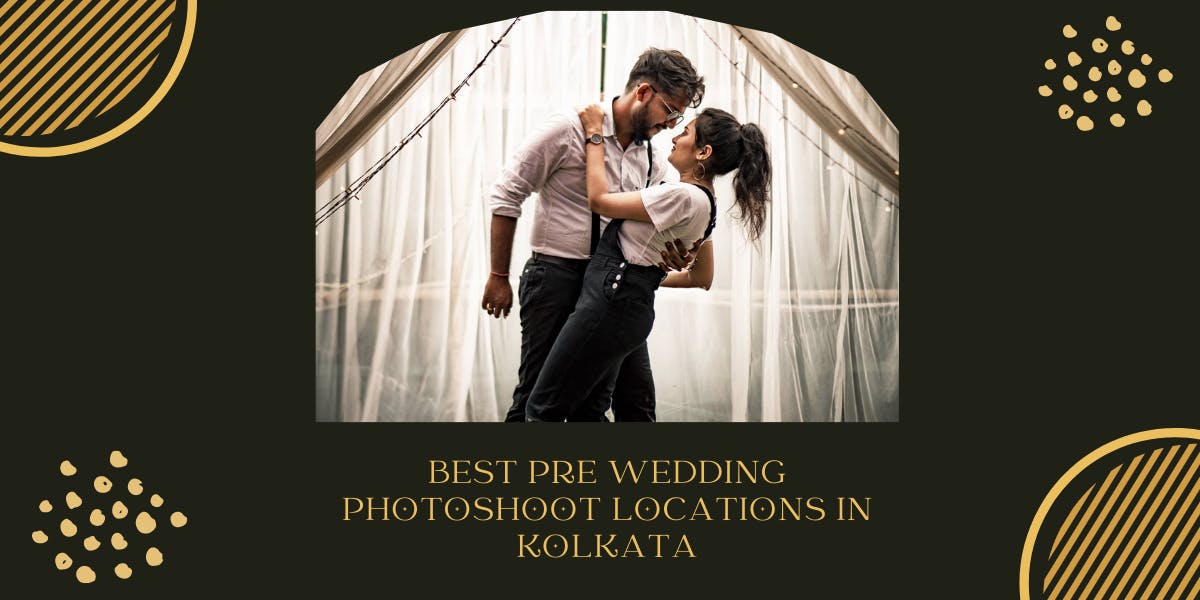 If you want to create dramatic pre-wedding pictures inspired by Bollywood movies then check out this picturesque pre wedding shoot locations kolkata guide.
It is the dream of all the couples to preserve the beautiful memories of their wedding. And with a beautiful pre-wedding shoot you can turn your dream into reality. Who wouldn't love to try pre wedding photography kolkata that are a mix of culture, romance, and picturesque locations! As a new couple, you can capture your love story into picture frames by planning a wonderful pre-wedding photo session. Hiring a good photographer doesn't complete the job. You have to find out the best and most picturesque locations that will produce some extremely beautiful photos. So, here is a quick guide for all the soon-to-be-married couples looking for outstanding places for pre-wedding shoot in kolkata.
1. Vidyasagar Setu
The serene backdrop of the Gushing water of Hooghly River and Vidyasagar Setu is a very popular pre wedding shoot places in kolkata. The beautiful architecture of this longest cable state bridge in India can be a beautiful backdrop for your pre-wedding shoot. The best time to plan a pre-wedding photo session here is in the morning time when there is an abundance of natural light which is just perfect for photography. It looks more beautiful at night when the lights of this hanging bridge are switched on which is perfect for some romantic couple shot.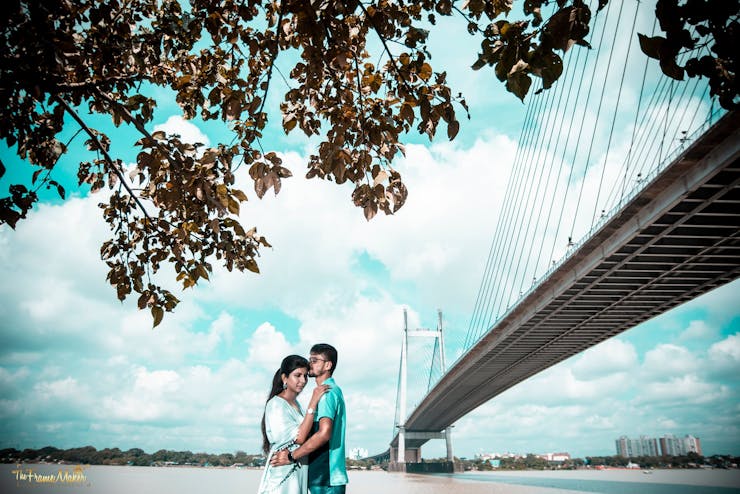 2. Biswa Bangla Gate                      
Would you like to make your pre-wedding photo session to be a romantic date night? Now it is possible in the city of joy where you can plan a dreamy pre-wedding photoshoot and ask your soul mate for a dinner night. Biswa Bangla Gate is a stunning hanging restaurant in the city that can provide you with a stupendous bird's eye view of the entire Kolkata. This wonderful restaurant is an amazing location for couple pre wedding photoshoot in Kolkata. Believe us this modern architectural building will offer you some magical pictures and a romantic dining experience that will stay in your memories forever.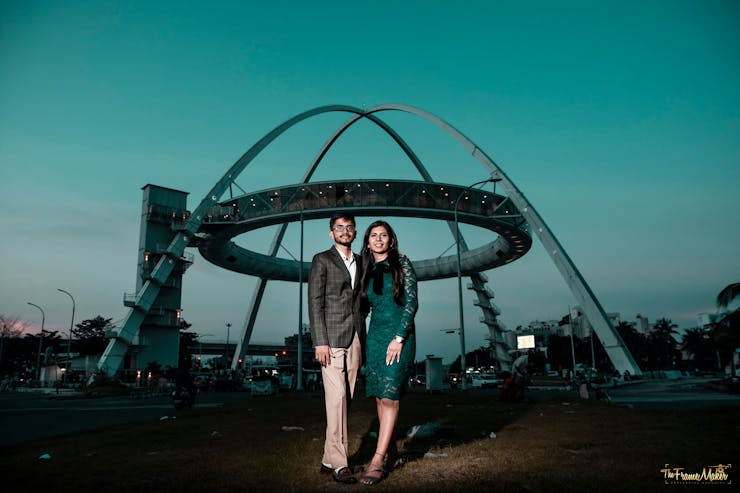 3. Eco Park
Being one of the best pre-wedding photographer in kolkata we have clicked many beautiful love stories at this beautiful place. From lush green parts to artificial lakes and beautiful replicas of the seven wonders of the world makes this park is one of the best place for pre wedding photoshoot. The place can offer you multiple backdrops for a splendid pre-wedding photo session. The best part is you can shoot during both day and night time.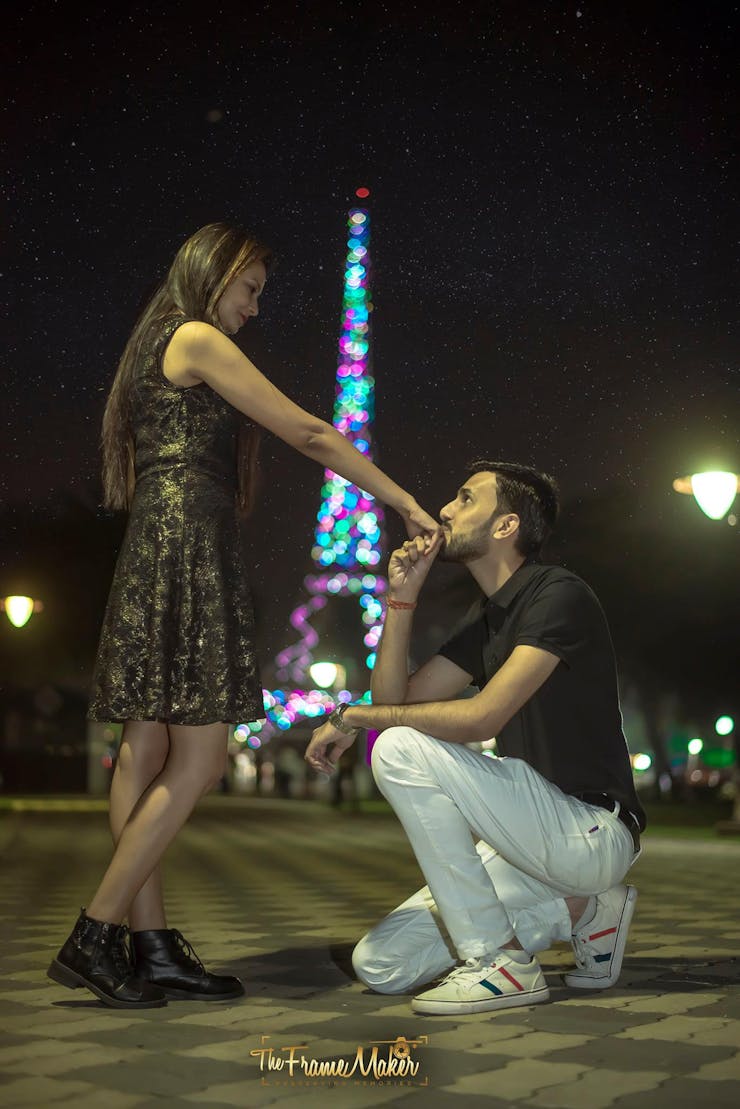 4. Kumartuli
This beautiful place is the essence of our cultural beliefs and representation of great craftsmanship. The hub of all divine idols the Kumar Tuli is a wonderful place to celebrate your new beginning. Skilled artisans of Kolkata creating or painting an idol can be a marvelous backdrop to pose for a pre-wedding photoshoot. Let the colorful idols increase the charm of your beautiful pre-wedding pictures. And also enjoy watching the making of divine idols in different stages.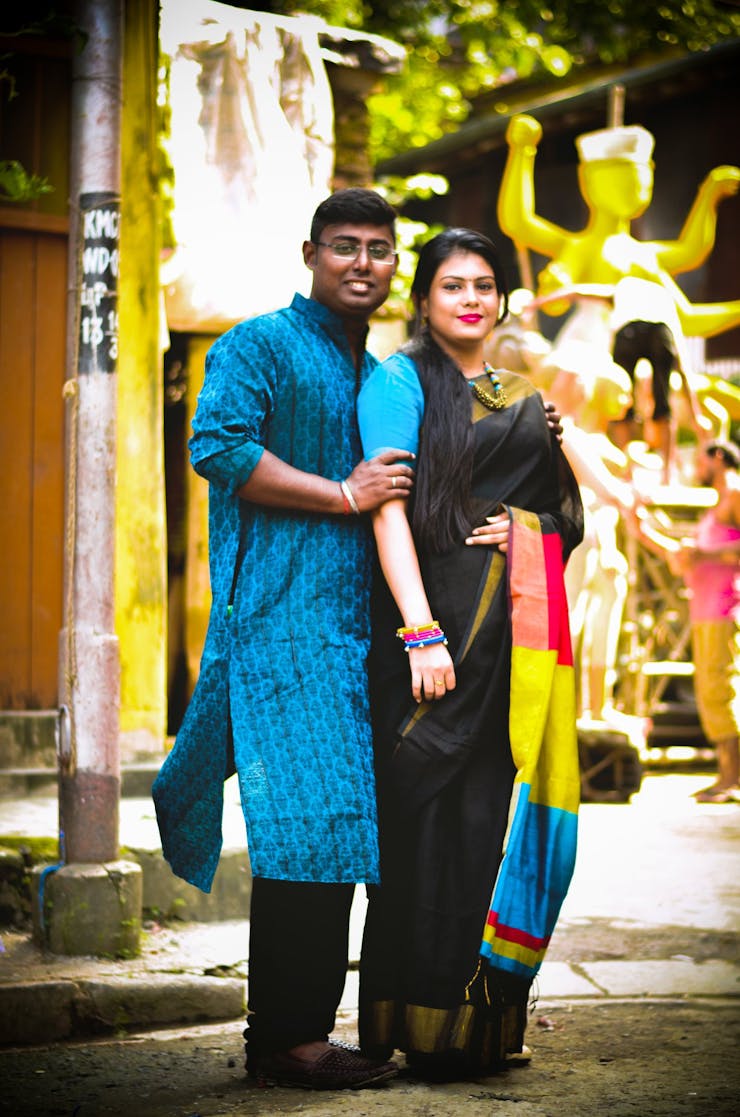 5. Maidan 
Famous for its lush greenery, tram tracks, and racecourse this is the 2nd best location for pre wedding shoot in Kolkata. It's a wonderful sight that grabs visitors' attention with its eye-pleasing greenery. Maidan is a popular place among young couples for shooting a dreamy pre-wedding shoot. From the vintage tram to the beautiful stray horses every element of this place creates a scenic backdrop for heavenly pictures. the best time to conduct a pre-wedding shoot in maidan is the morning time as the sun will add natural light to your pre-wedding pictures.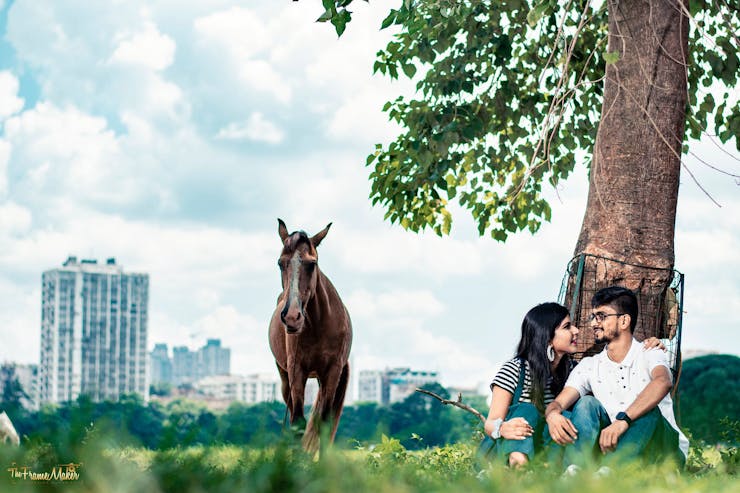 6. Lanes of Kolkata
The street and lanes of Kolkata are an incredible choice for a candid free wedding shoot. Adding the backdrop of vintage-style homes in your pre-wedding pictures adds a dramatic effect to it. Most couples love to shoot by walking in the lanes or posing on hand pull rickshaws to include the colonial charm in your pre-wedding pictures. you may feel a little awkward at the beginning but trust us this is a very fun-filled and cost-effective way to plan a pre-wedding photoshoot and to spend some time together with your soul mate.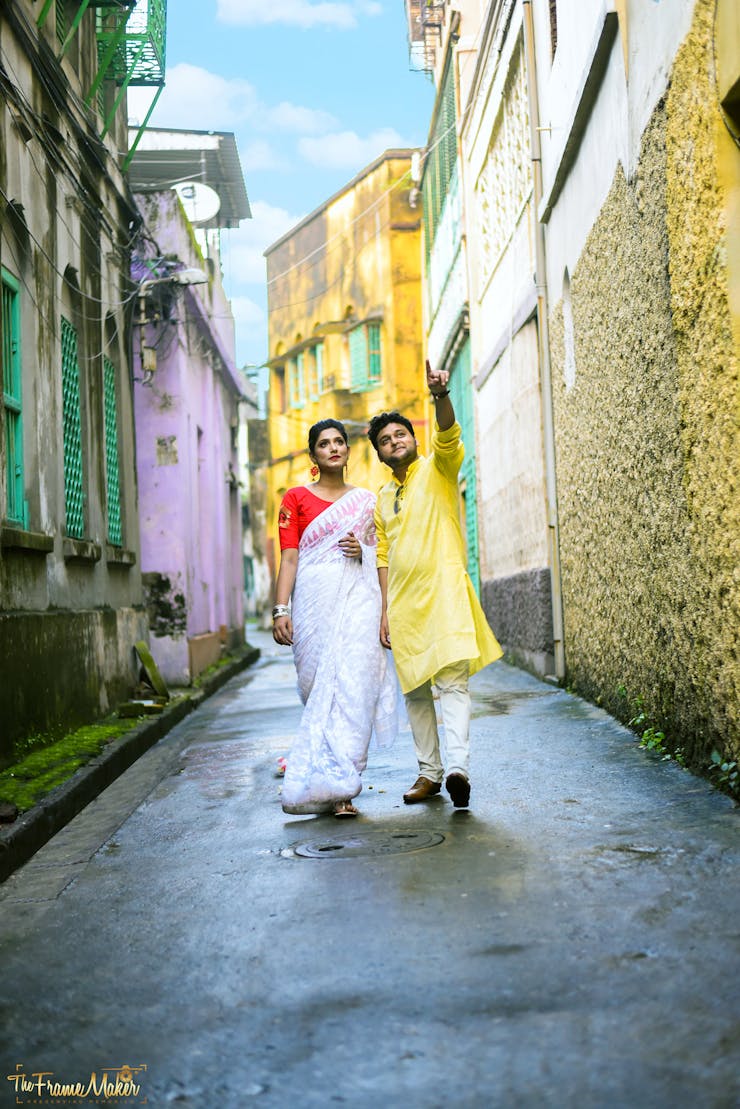 7. Princep Ghat
This is the best pre wedding place to offer mesmerizing ambiance in your photoshoot. The magnificent architectural building and bridge built on the banks of the Ganges create an iconic backdrop for Indian movies. Princep Ghat is considered a highly romantic place in Kolkata that offers you some enthralling shots. It is an outstanding example of architectural wonder in this vintage city. Whether it's a sunny day or a cloudy day this colonial construction always stays the best photoshoot location among couples.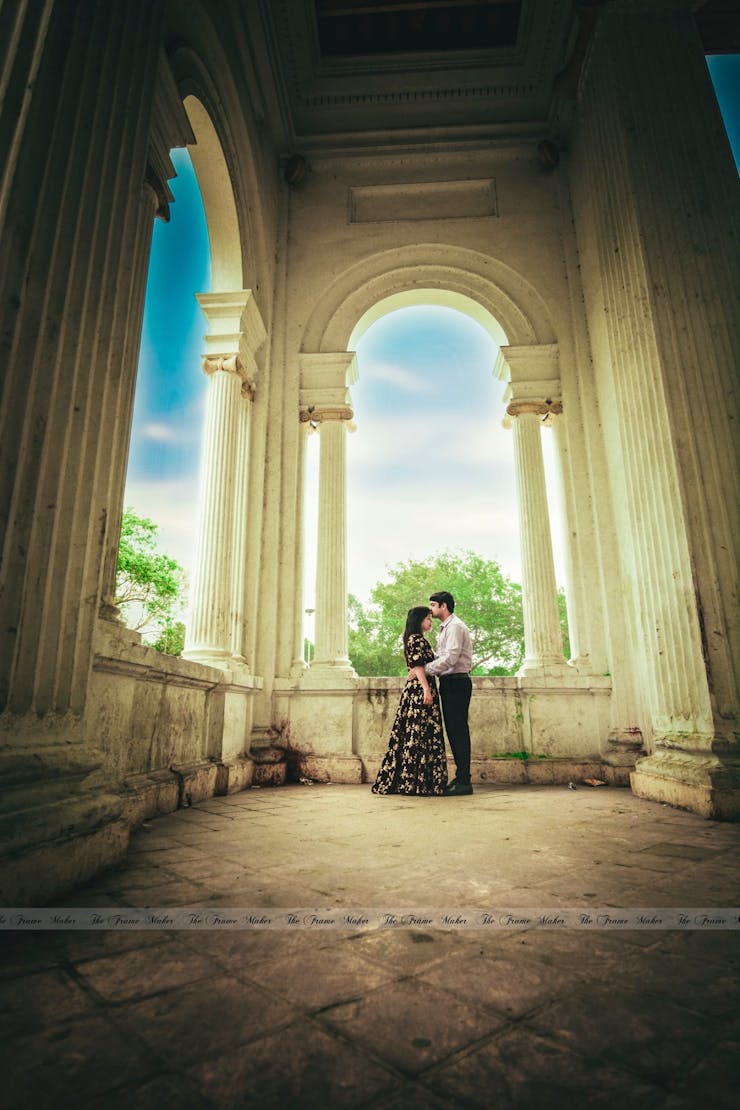 8. Rajbari Bawali
Celebrate your love story in an old luxurious heritage resort in Kolkata. This heritage property is a beautiful place to conduct a memorable pre wedding shoot at kolkata. The royal elegance and vintage charm of this heritage hotel can add a special elegance to your pre-wedding pictures. The backdrop of a zamindari mansion, royal rooms, and antique statues reminds you of the century-old architectural beauty. The beautiful design of this heritage hotel makes it a perfect location for a traditional pre-wedding photoshoot.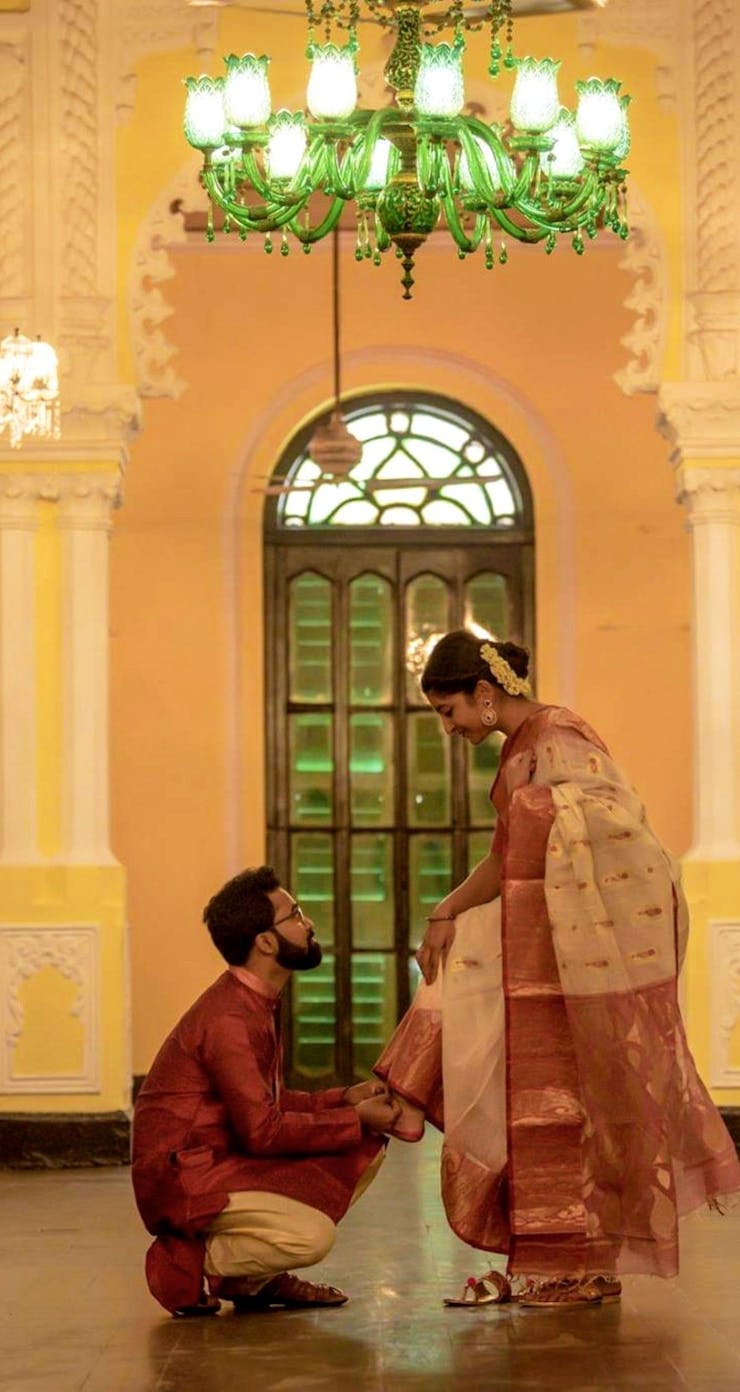 9. Victoria Memorial
Victoria Memorial is an epitome of beauty that can make your pre-wedding pictures more beautiful. The grand white marvel structure and its outstanding architectural design are considered to be the finest pre wedding shoot locations in the city of joy. As an experienced pre-wedding photographer we highly recommend planning a pre-wedding photoshoot at this marvelous location. Being one of the finest monuments of India this vintage building and its lush green garden creates a magical pre-wedding story.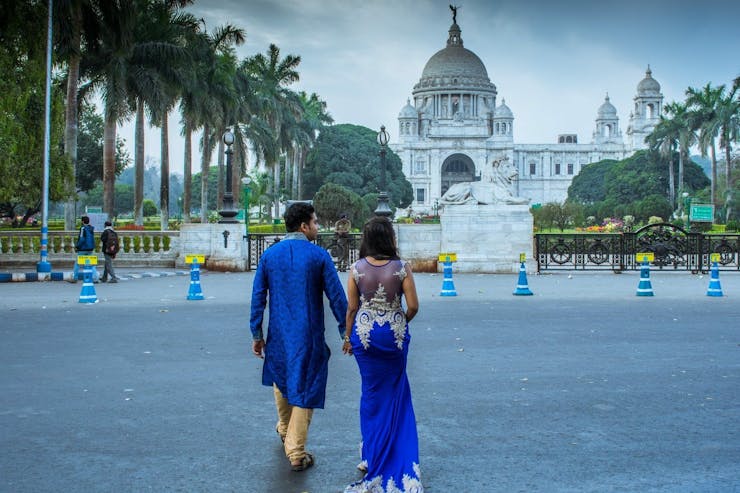 We hope that you got your dream location for a romantic pre-wedding photoshoot in Kolkata after reading this interesting blog.