13+ Latest Kalire Designs You Should Know About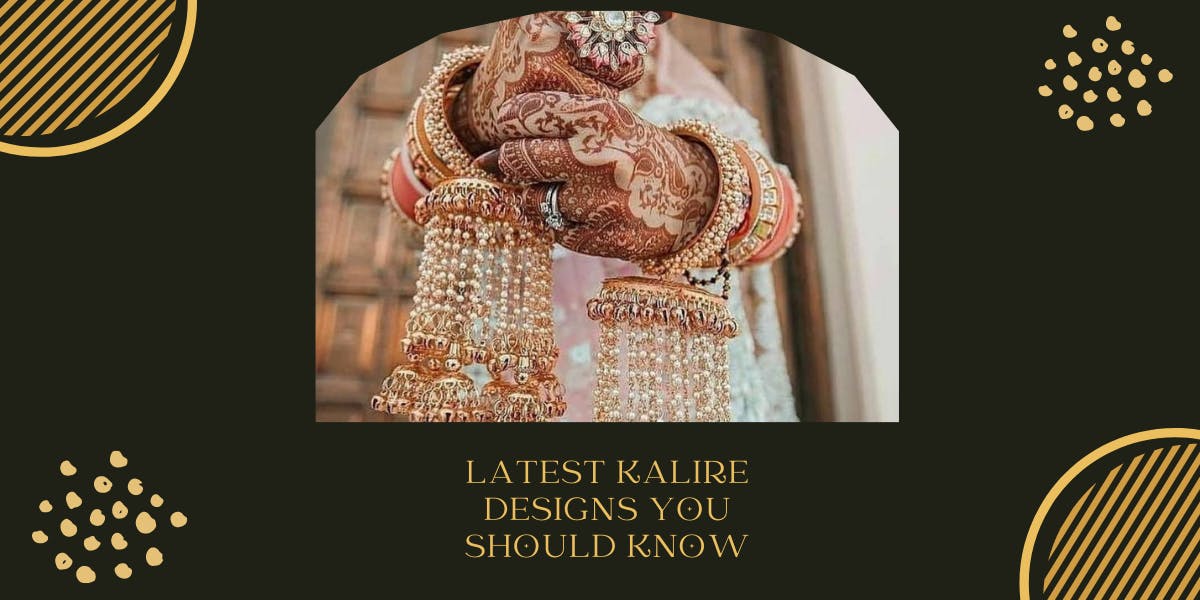 Add an instant charm to your mehndi-laden hands by opting for these classy wrist adornments. Check here few latest kalire designs to rock your bridal look.
Bridal kalire is another traditional jewel in bridal trousseau that accentuates the beauty of the bridal look. Just like a beautiful bangle this mesmerizing hand jewelry also adds a special charm to your bridal persona. This century-old bridal jewelry has withstood the test of time and has been able to captivate everyone with its surpassed beauty. These statement jewelry are traditionally significant and considered auspicious for Indian brides. Being a prominent wedding photographer in kolkata, we have witnessed hundreds of brides adorning their hands with this statement jewelry, which makes their bridal pose more dramatic. 
In the olden days, brides used to wear coconut kalleras in their hands which help them to reduce their hunger on a long journey toward the groom's home. Over time, things have completely changed. Now you will get multiple types of Bridal kalleras. From conch shells to personalized designs, you can simply choose any bridal kalire that makes a contrasting pair with your gorgeous bridal lehenga. so, without any further delay, we are sharing below an ultimate fashion guide on latest kalire designs that will truly floor you with their opulence.
1. Pretty Conch Kalire
If you have planned a beautiful destination wedding at the sea side then the conch shell kalire will be a perfect option for you. Small and pretty white shells hanging will add a mesmerizing touch to your wedding look. The delightful pearl embedded wristlet attached with the shell hanging can amplify the visual impact of your bridal pose.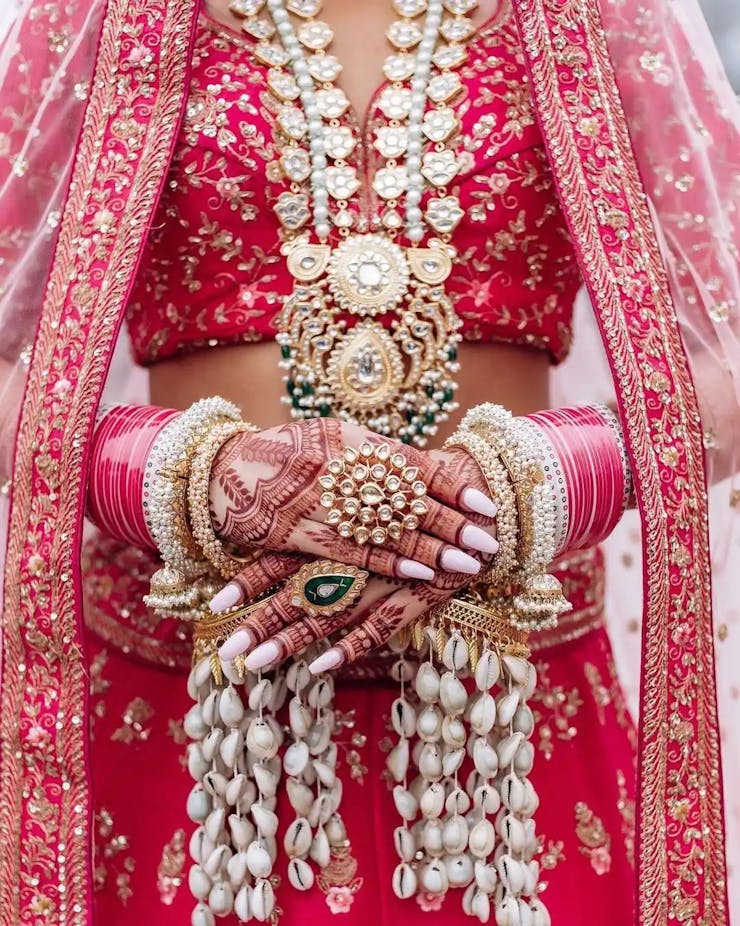 2. Make A Style Statement With Silver Kalire
We fell in love with the stylish look of this silver kalire. The exquisite design of this silver kalire looks like it on a bride's hand. This elegant piece of jewelry adds a unique touch to your wedding attire. A silver bridal kalire is a perfect match for a white-tone lehenga.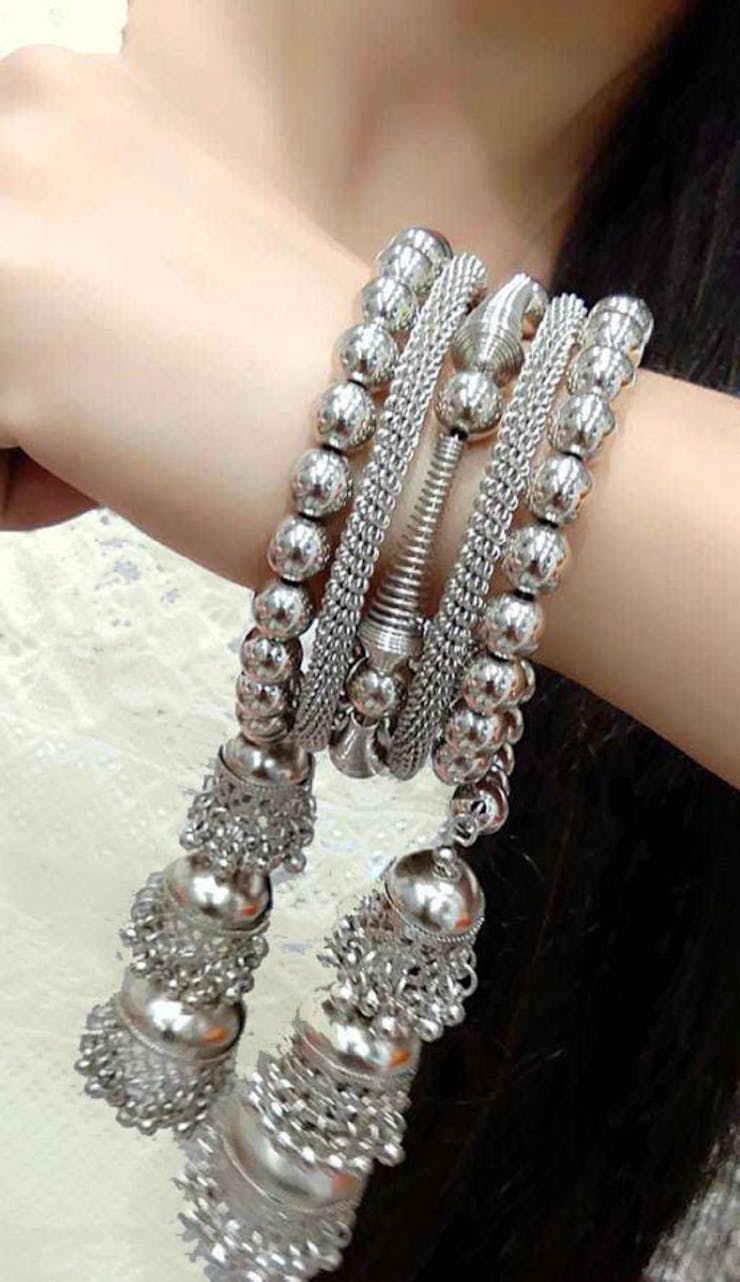 3. A Dramatic Pose With Doll Kalire
These are probably the most charming and adorable kalire designs. Adorn your beautiful hands with a cute puppet hanging to add a dramatic twist to your wedding pictures. Ask your kolkata wedding photographer to focus on these adorable doll hangings to enhance the beauty of the picture.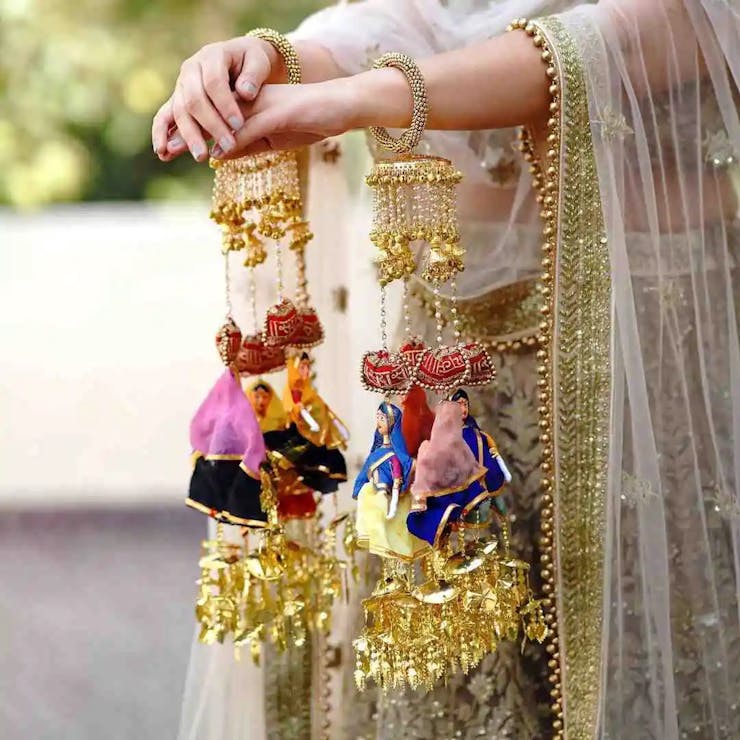 4. Enchanting Look Of Pearl Kalire
You can never go wrong with pearl-embedded jewelry. The simplistic elegance of this pearl hanging along with the precious ghungroos offers a heavenly touch to your wedding kalire. The pearl kalire is a very popular bridal kalire design that is preferred by modern brides. The visual impact of this elegant hand jewelry can be so powerful that no one can resist themselves to praise its beauty.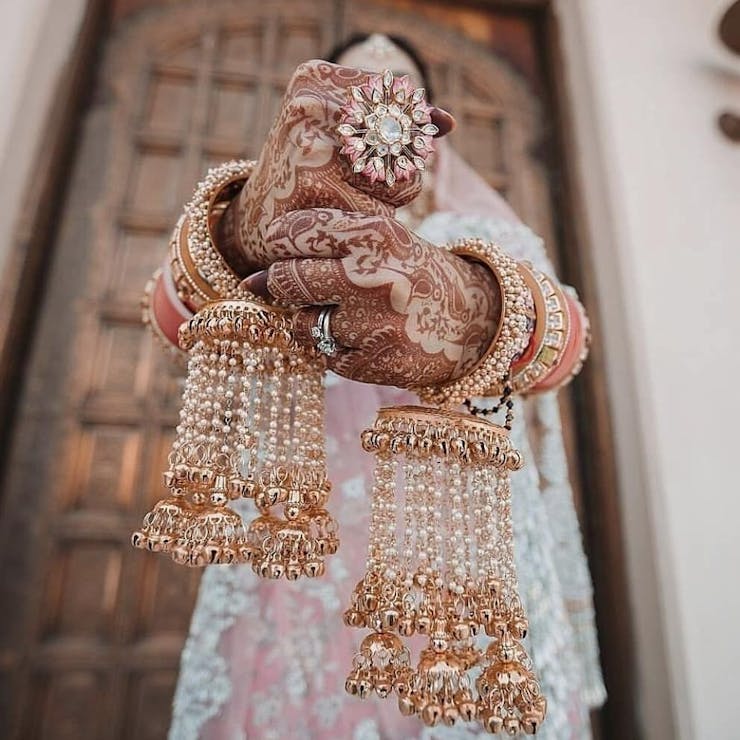 5. Cutest Mini Kalire
How about this cute and beautiful mini kalire? If you don't like were oversized jewelry then you can try this mini wrist hanging. The Kundan and pearl embedded bridal kalire is an extraordinary piece of hand jewelry that can add an enthralling charm to your bridal persona.
6. A Regal Touch Of Kundan Kalire
Millennial brides are obsessed with Kundan jewelry. The traditional grace of this royal jewelry never fails to surprise us at any point in time. The exquisite Kundan work on the golden tassel looks amazing with an embroidered lehenga. The gorgeous of this precious stone can help you in elevating the look and make you a classy bride.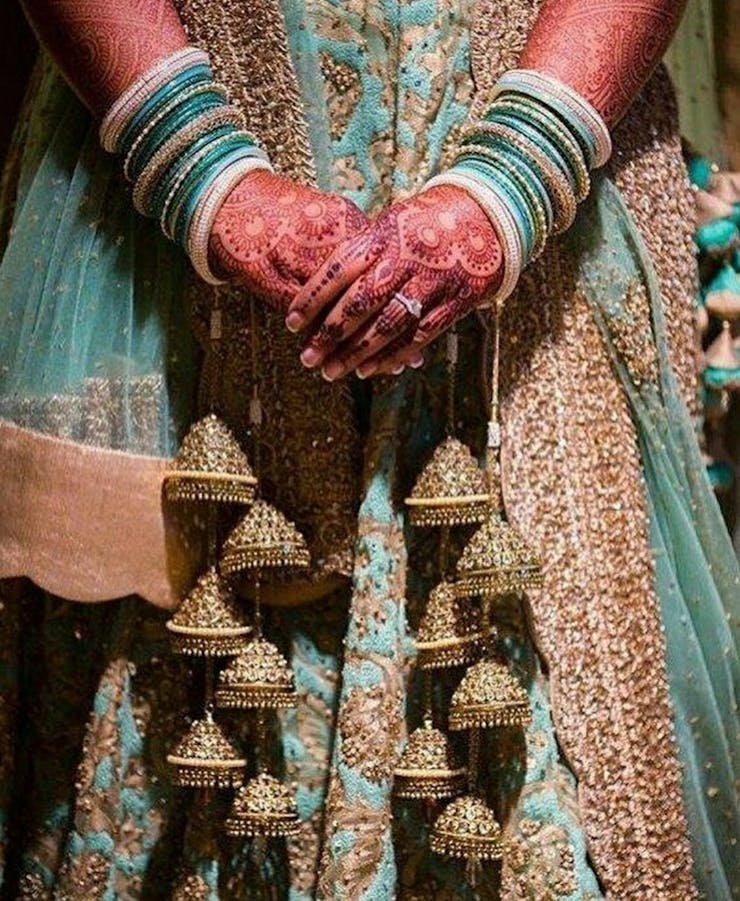 7. Add Some Fresh Vibes With Floral Kalire
Flowers have always impressed us with their beauty and fragrance. Nowadays, a bride wearing floral kalire in her pre-wedding ceremony is the latest trend that makes the wedding pictures more vibrant. Events like Haldi or mehndi ceremonies are incomplete without the touch of a floral kalire. Real or artificial flowers attached with pearl hangings make you look a little extra gorgeous.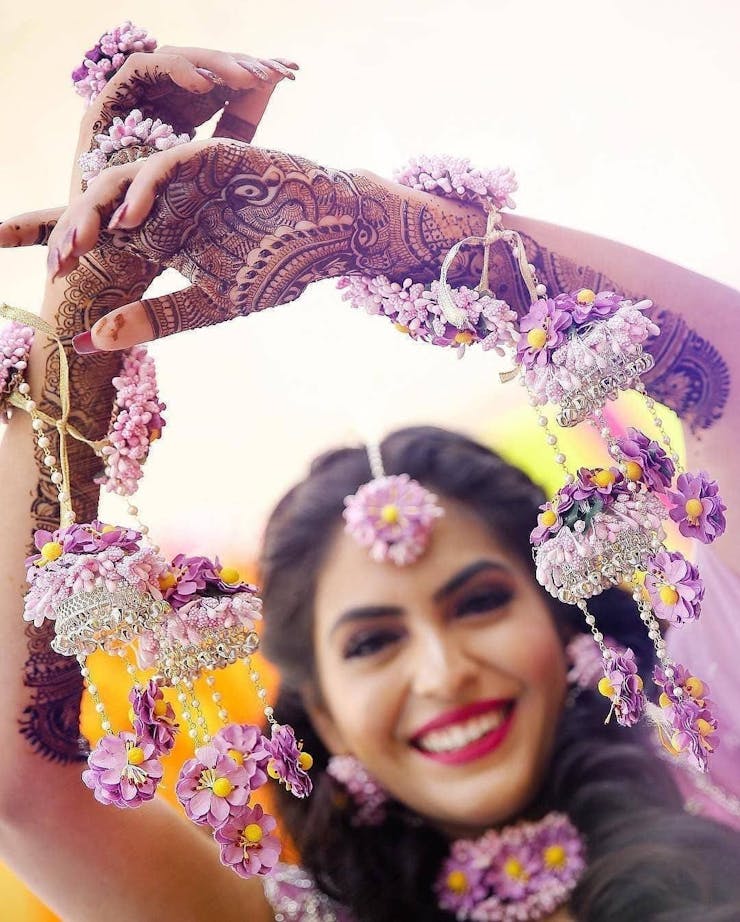 8. Follow The Tradition With Exquisite Gold Kalire
A bride wearing a red lehenga with exquisitely designed gold jewelry is considered the best bridal look. A bridal kalire made of gold is a symbol of well and prosperity. This traditional gold kalire is a perfect choice for something traditional and as well as royal. A golden umbrella kalire design with a shell tight choorah goes well with a designer red lehenga.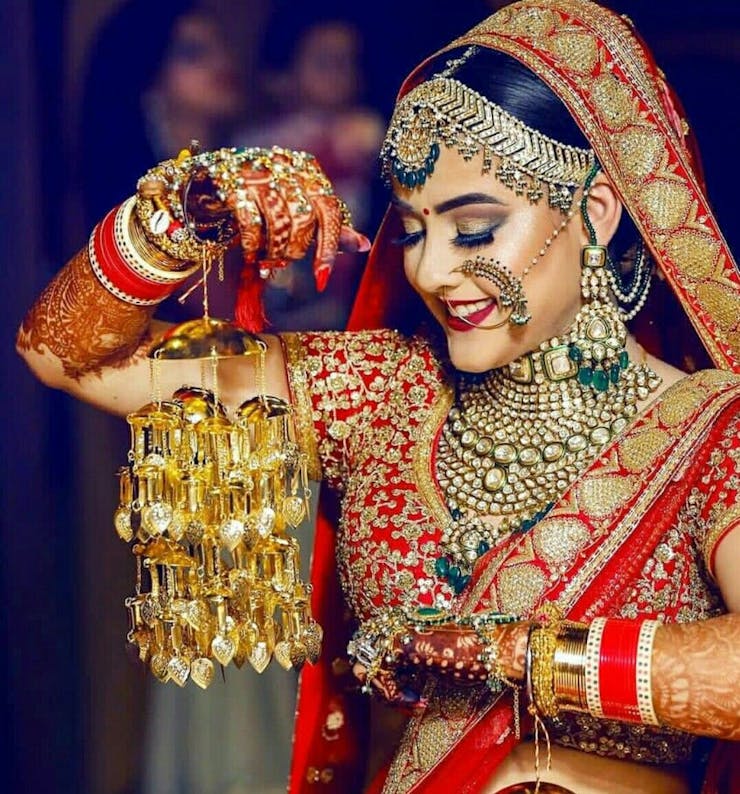 9. Opt For The Contemporary Personalized Kalire
If you proffered to add a personal touch to your wedding jewelry then you must definitely opt for a personalized kalire. Engrave your partner's name in your bridal kalire is one of the best ways to express your feeling perfectly. You can easily customize the alphabet of your better half to depict your love story in your wedding pictures.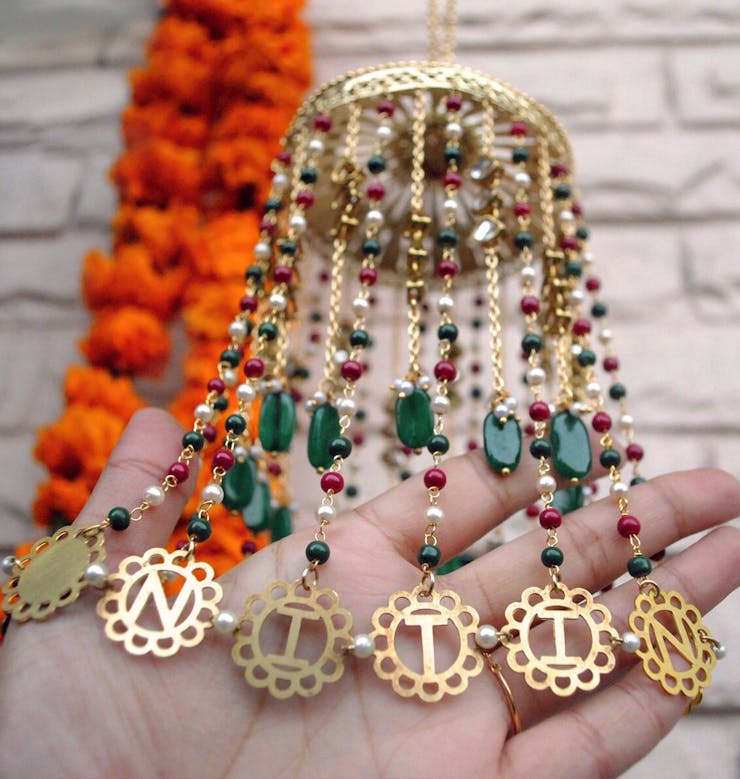 10. Showers Of Blessings With Tiered Kalire
What can be more charming than this chandelier-style bridal kalire. This tiered kaleere for bride is probably the most impressive design to shine in your wedding outfit. The leafy adornments embedded in pearl chains add a conventional touch to your adorable hands.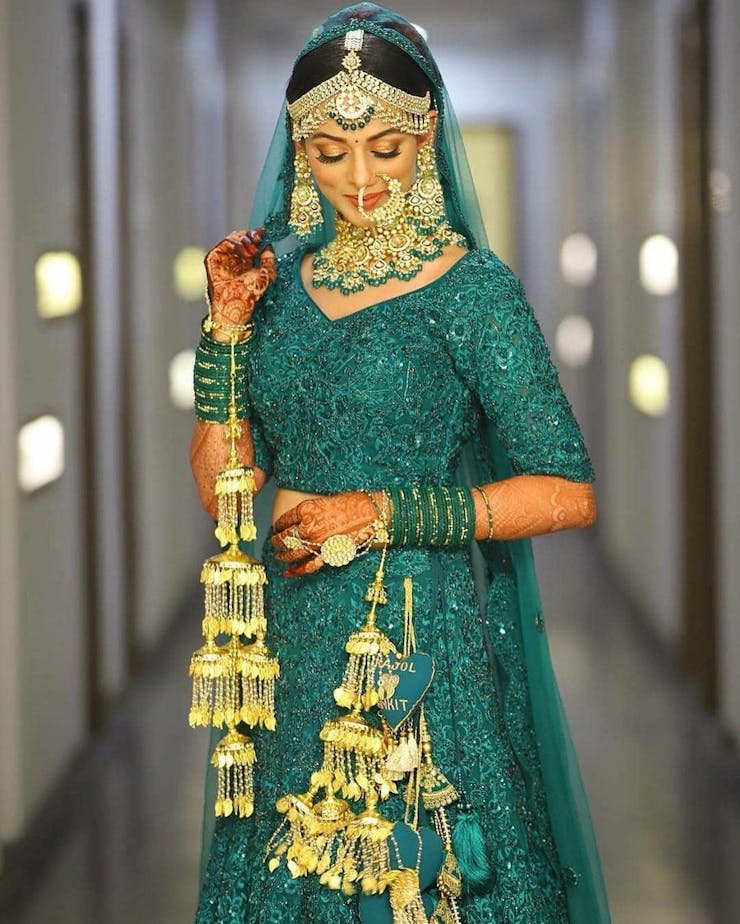 11. Nature Inspired Kalire
If you want to make a style statement at your wedding then you must try these nature-inspired simple kalire designs. The absolute beauty of the birds and animal patterns embedded in this bridal kalire makes it one of the most unique and attractive bridal kalire.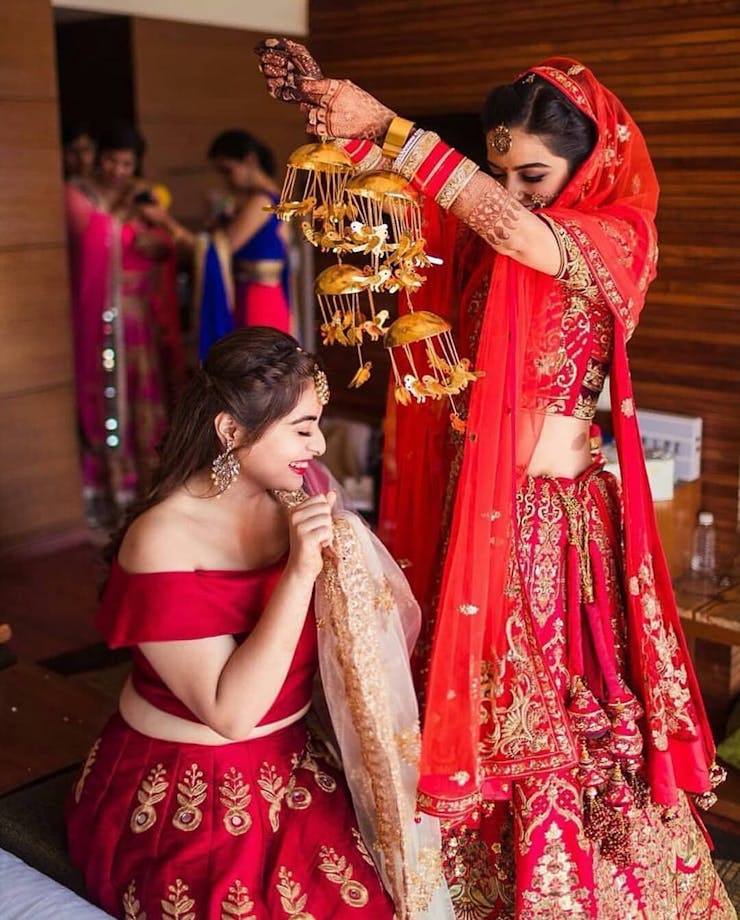 12. The Dream Catcher – Tassel Kalire
If you love to experiment with every element of your bridal look then the tassel kalire will surely grab your attention. A tassel kalire can add a radiant and dramatic touch to your wedding look. This type of multicolor kalire embedded in gold and Kundan adornments are perfect for brides who want to wear a heavy one.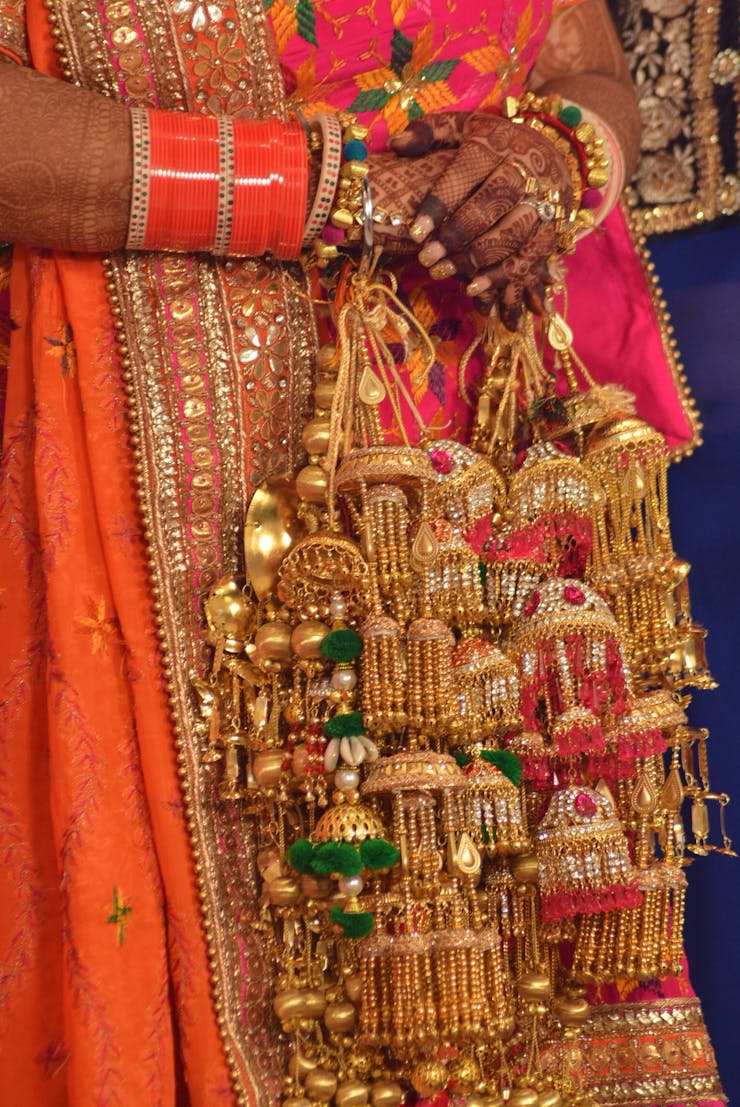 13. Fascinating Jhumka Design Kalire
The Jhumkas add a traditional charm to your wedding look. The intricate detailing of this bridal hand jewelry makes this one worthy of everyone's attention. This bridal kalire will offer you a breathtaking look that will stay in your memory forever.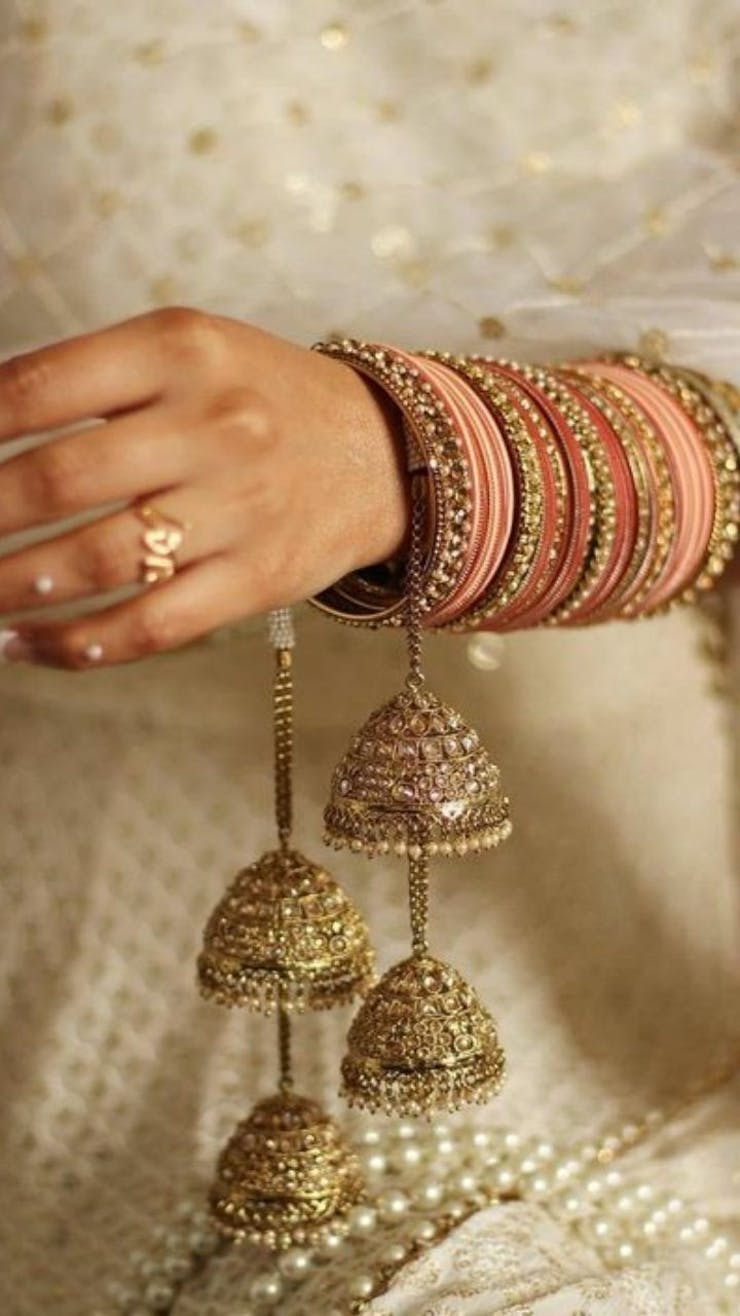 We are sure that these wedding tips for brides on bridal kalire will help you to choose the perfect one for your special day.