Prettiest Haldi Ceremony Flower Jewellery Designs For Bride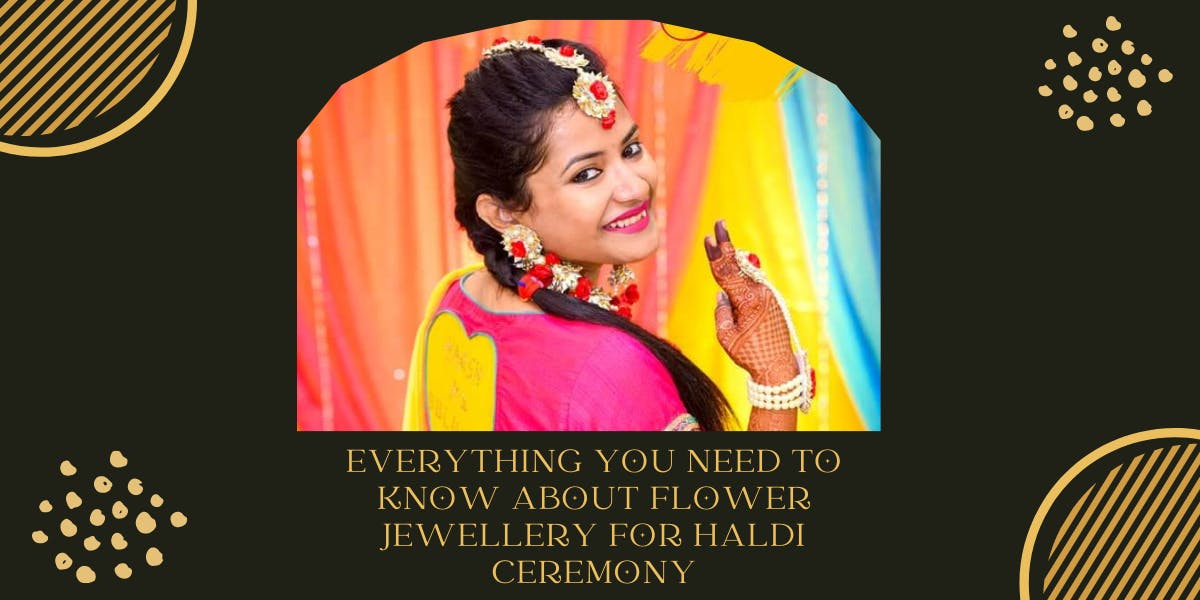 Floral jewelry can enhance the beauty of your bridal look. Check here some latest haldi ceremony flower jewellery to be the most glamorous bride on D-day.
Women are very fond of wearing jewelry because it can accentuate their natural beauty. The fascination of brides for floral jewelry can be easily seen in wedding photography performed by a passionate team of kolkata wedding photographer. The trend of wearing floral jewelry in India dates back thousands of years ago. We have first found the mention of floral jewelry in Indian epics like Ramayana where goddess Sita used to wear this pretty jewelry. Since then till now this beautiful and soft jewelry is the favorite jewel of Indian brides. Events like the Haldi ceremony is one of the best occasion to wear this colorful jewelry. The beauty and fragrance of flowers will add a fresh appeal to your bridal look. 
Let's have a closer look at the trendiest and most beautiful haldi ceremony flower jewellery ideas.
1. Floral Hairpiece
A floral hairpiece if tied in your hair properly provides a great effect to your stylish bun. This pretty bride has amped her Haldi look with a contrasting floral hairpiece in her bun which is perfectly captured by the best wedding photographer in kolkata.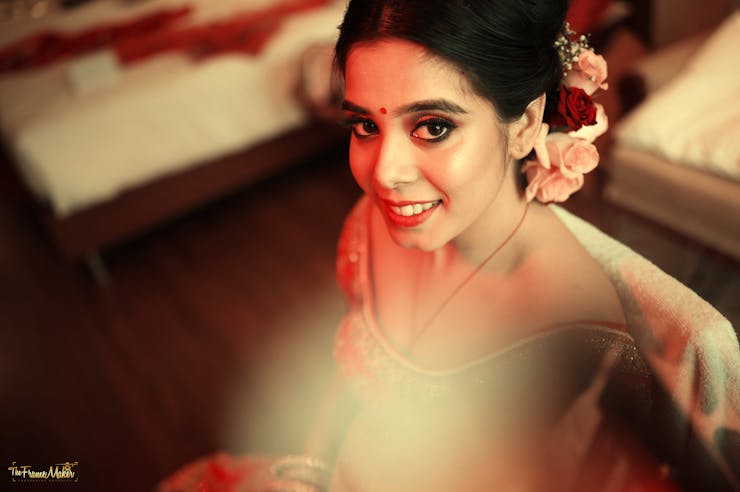 2. Floral Haathphool
If you want a statement jewelry piece on your hand that can make you stand out in the Haldi function then you must choose a floral Haathphool just like this lovely bride. This flower jewellery for haldi ceremony can make you look like an epitome of gorgeousness. Choosing contrasting jewelry with your bridal gown or lehenga will uplift your bridal look.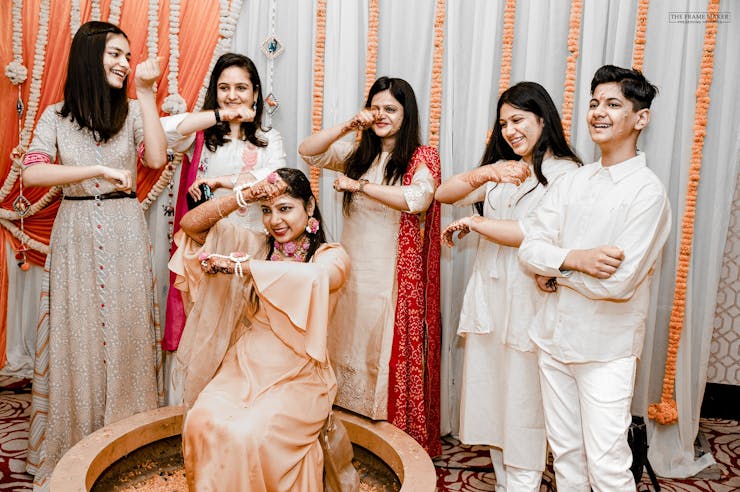 3. Floral Necklace
Another beautiful jewellery for haldi ceremony is a floral necklace. A floral necklace like Sita haar can be highly mesmerizing with a yellow saree for your Haldi event. The fragrance of fresh flowers and the beauty of white pearls in the necklace will elevate the beauty of your bridal attire.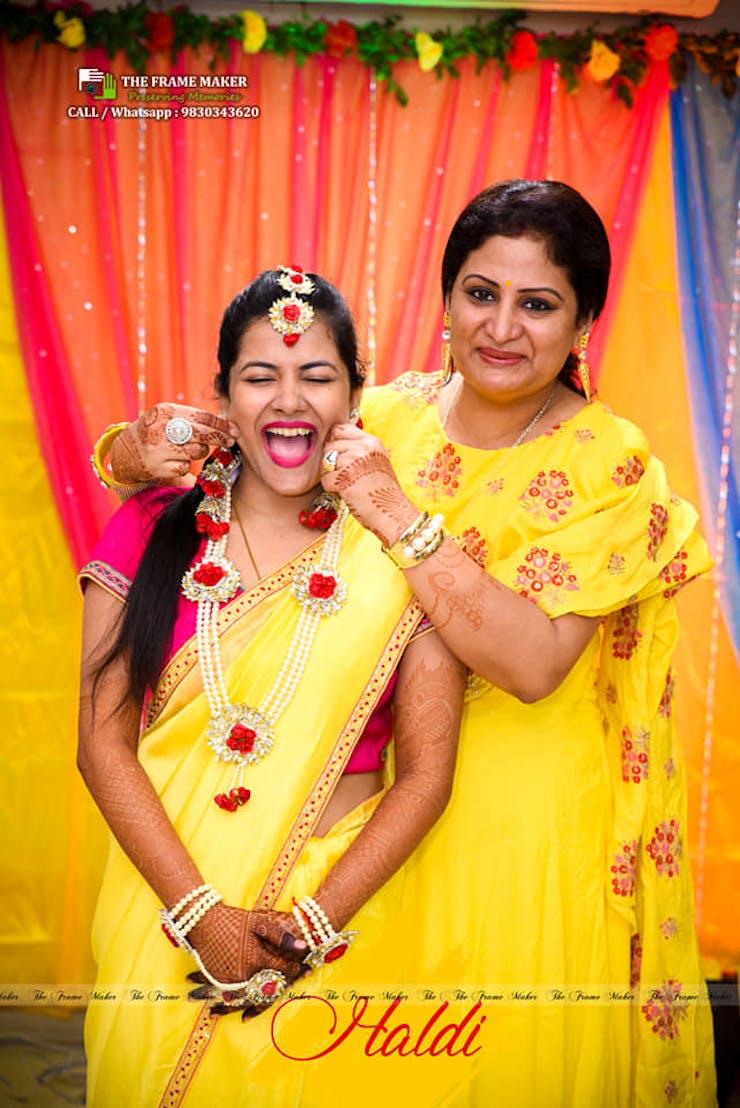 4. Floral Maangtika
A floral Maangtika is the favorite haldi ceremony jewellery of modern brides. This is a long chain designed of white beads or pearls which is attached with a pendant in the middle. This dainty Maangtika offers a delicate look to the cheerful bride. The combination of red & white artificial flowers is a wonderful choice for a joyful Haldi event.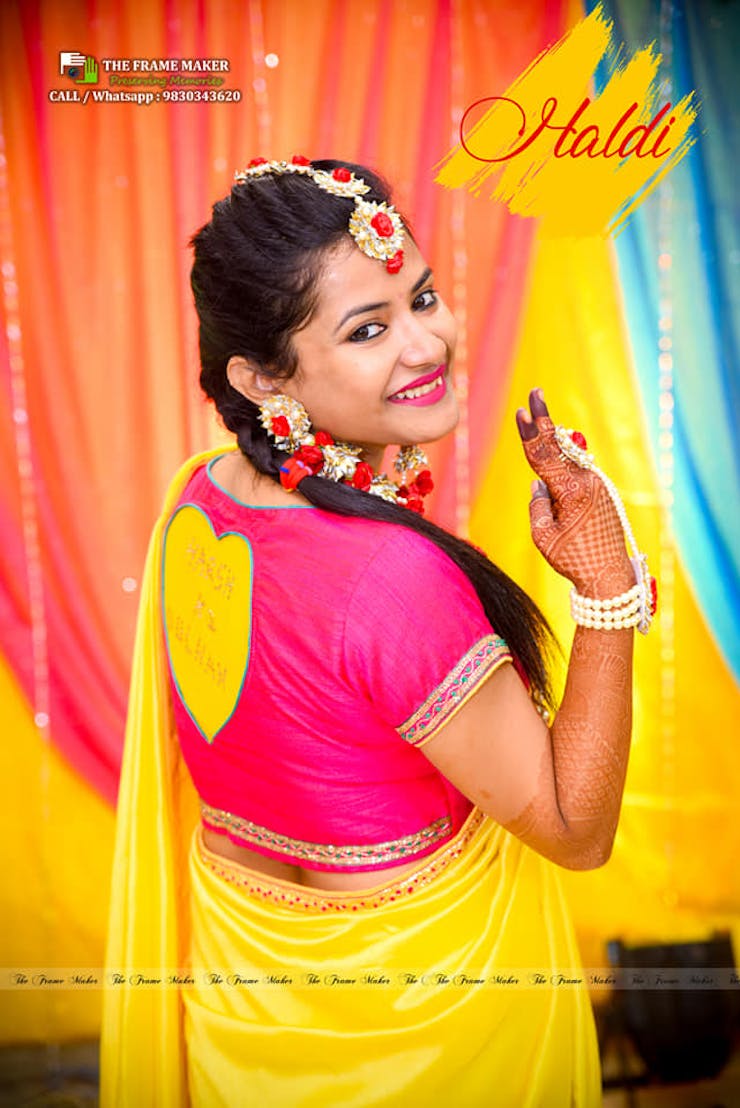 5. Floral Maatha Patti
A Maatha Patti is a piece of royal jewelry that is worn in the mid parting of the hair. Opting for a white Maatha Patti made of jasmine flowers and small beads offers a breathtaking look to the bride. This happy bride flaunting her floral Maatha Patti in the wedding pictures is trying to bid farewell to her bachelorette life.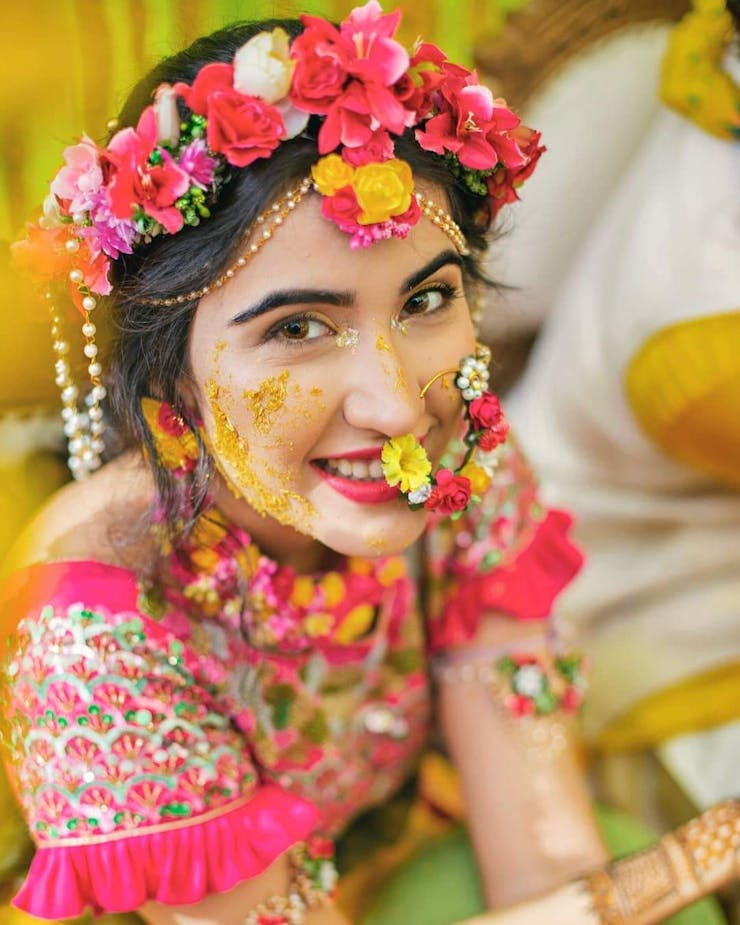 6. Floral Nose Ring
To give your Haldi outfit a unique twist you can try wearing a floral nose ring. The delicate appeal of this floral nose ring accentuates the beauty of your face. The beautiful contrast between your nose ring and glamorous eye makeup will make you look like a real diva.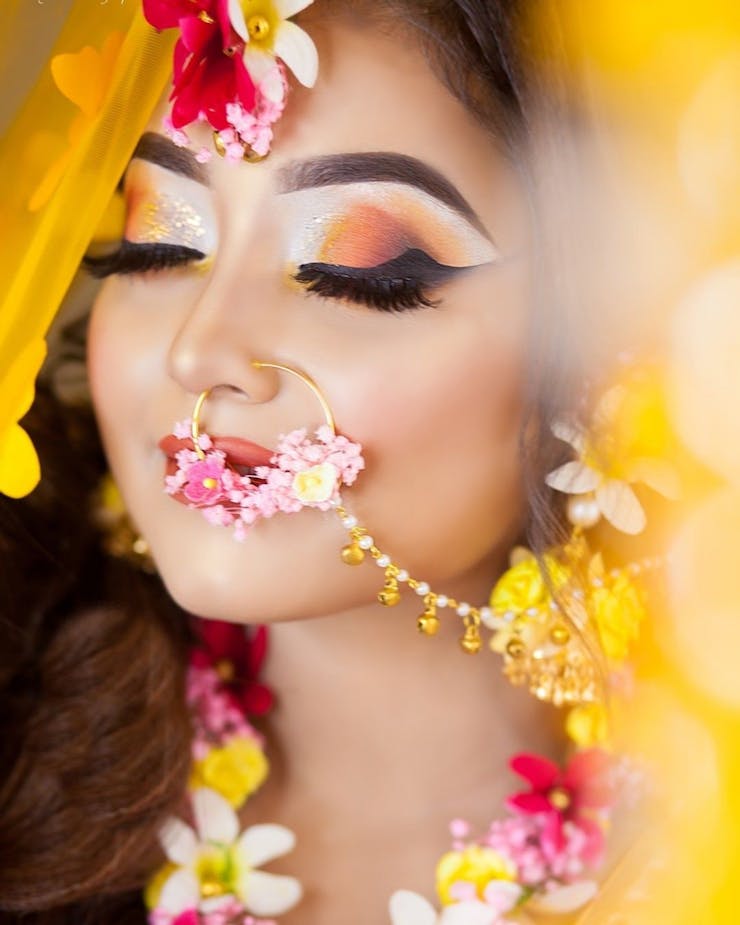 7. Floral Kalleere
Floral kallere is the most gorgeous and trendy haldi bridal jewellery. Wearing a floral kallere in pretty shades like pink and white can bring all the attention to your hands. This charming bride has worn a kallere made of roses and tuberose garlands which is truly a phenomenal one.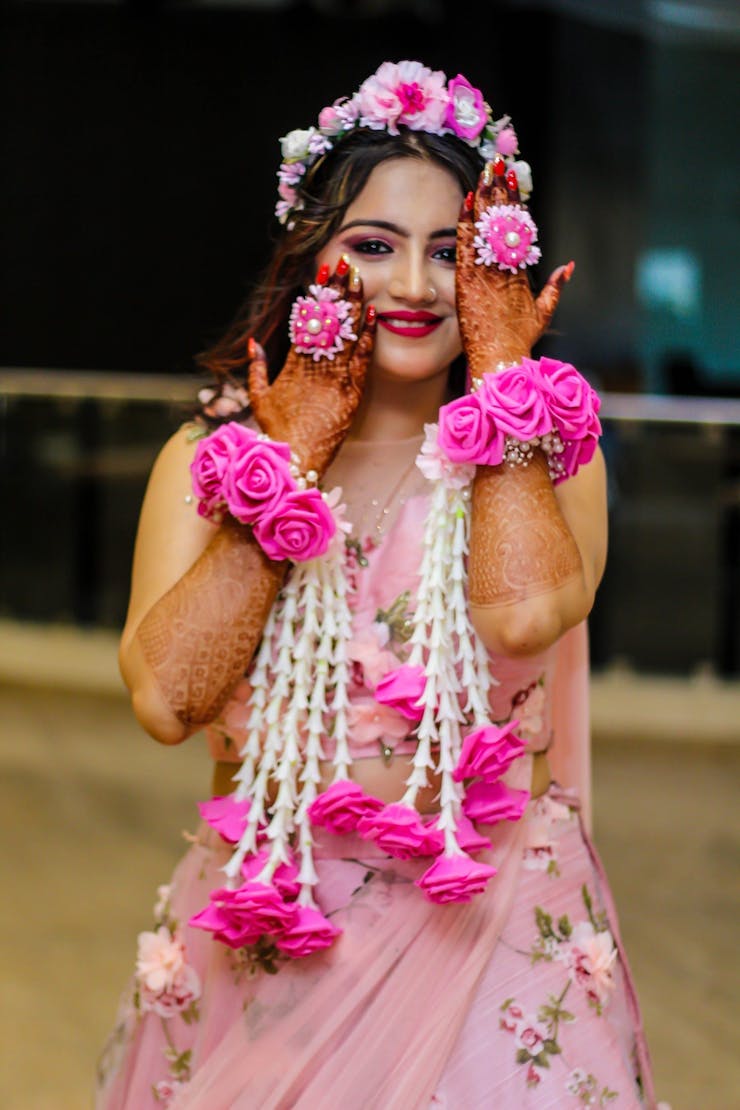 8. Floral Bangles
A set of floral bangles looks lovely on the adorable hands of a lovely bride. Made of flower buds and petals, this floral jewellery for haldi is a beautiful addition to the bridal trousseau. The unconventional look of these colorful bangles can be a huge hit for your Haldi ceremony look.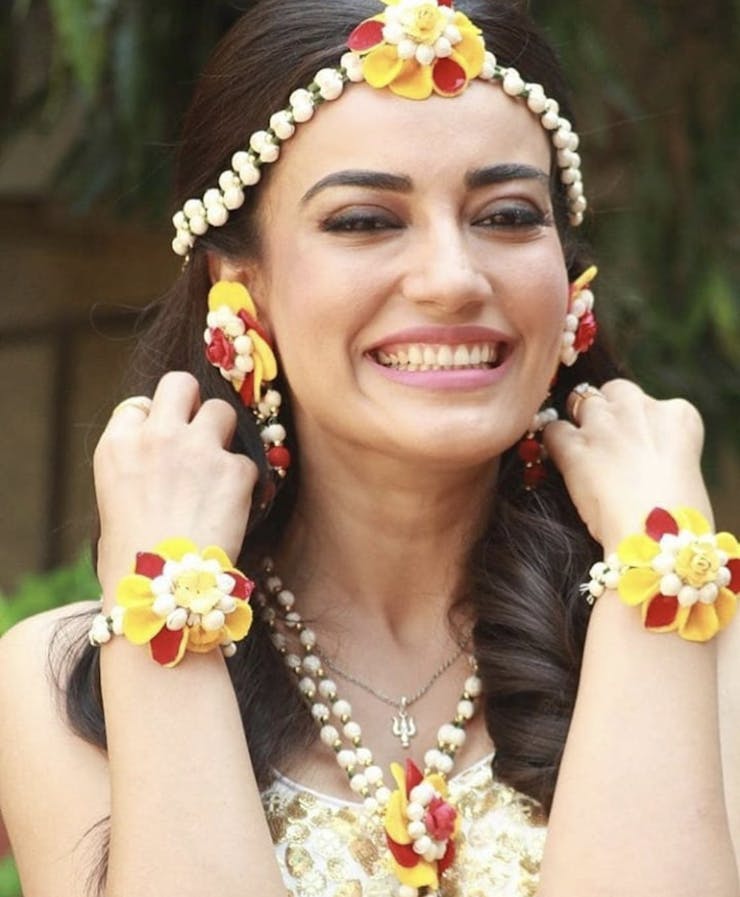 9. Floral Ear Rings
If you are an OTT bride who is looking for super dramatic jewelry then you must try this floral earring to create a mesmerizing look. Our gorgeous bride has teamed up her stunning Haldi outfit with beauteous yellow floral Jhumka.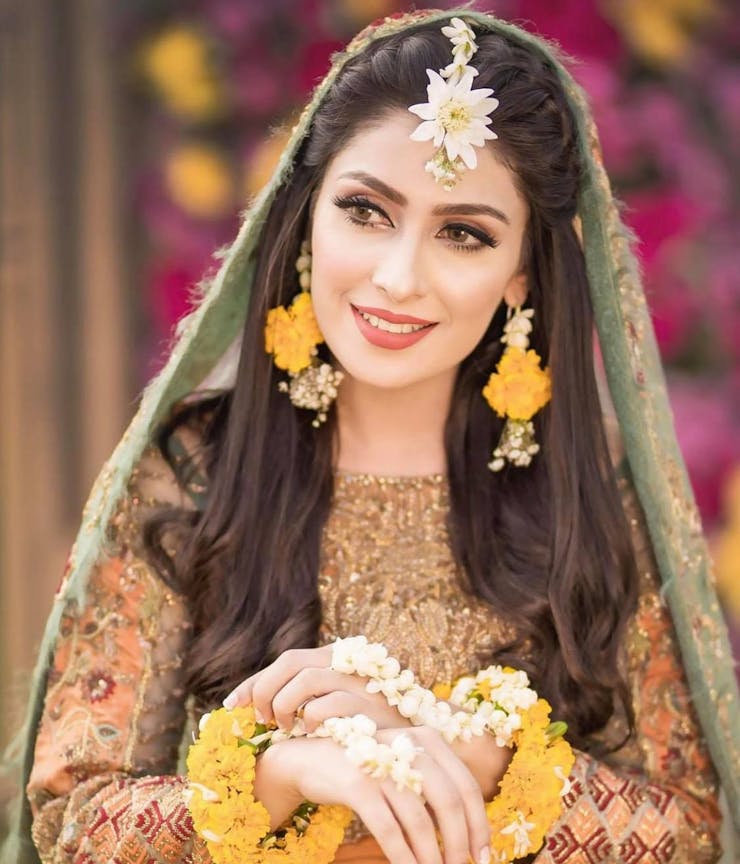 10. Floral Kamarbandh
A Kamar bandh is a wonderful part of the bridal jewelry collection. Nowadays modern brides have ditched the traditional and heavy gold Kamar band designs and opted for a delicate and stunningly beautiful floral Kamar bandh. Wearing this bridal jewellery for haldi function will add a dash of pretty colors to your beautiful Haldi outfit.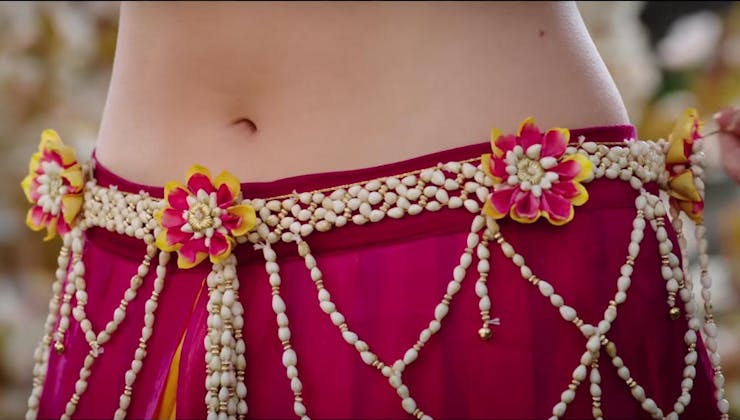 11. Floral Anklet
Wearing a floral anklet is one of the biggest trends in recent years. The enchanting beauty of colorful floral anklets can add a special charm to the bridal feet making them one of the best flower jewelry for your Haldi ceremony. This real flower jewellery for haldi function adds a magical appeal to your bridal persona.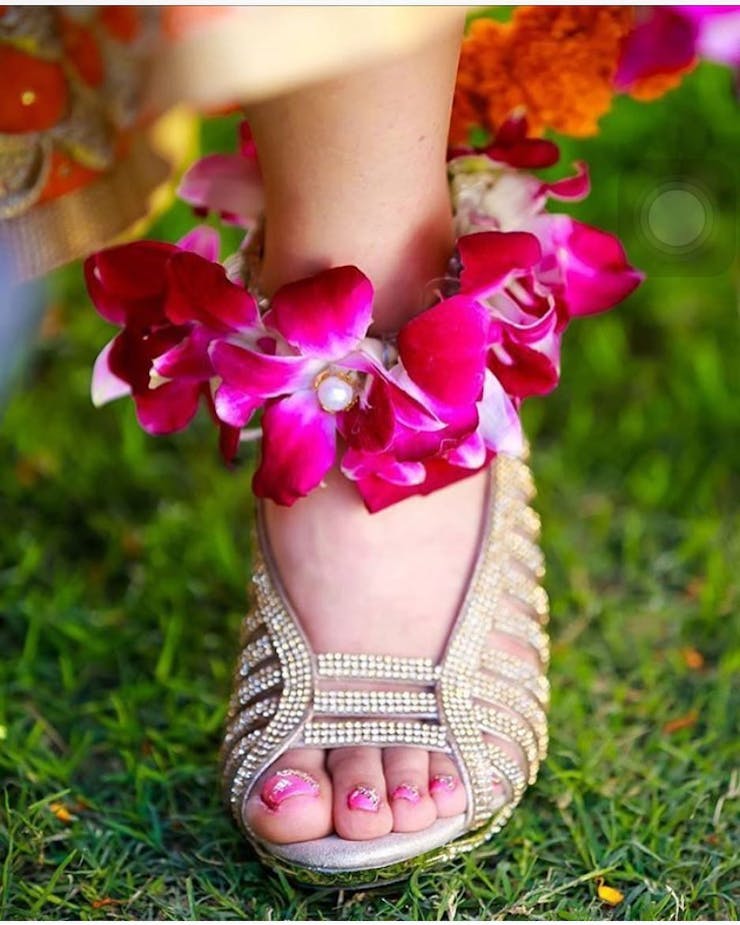 12. Floral Dupatta
Ditch the fabric dupatta and opt for a floral dupatta to get a refreshing look at your Haldi ceremony. A floral dupatta is made of fresh flowers that can add freshness to your overall look. The yellow outfit and dramatic floral dupatta of these adorable brides look dam graceful in wedding pictures.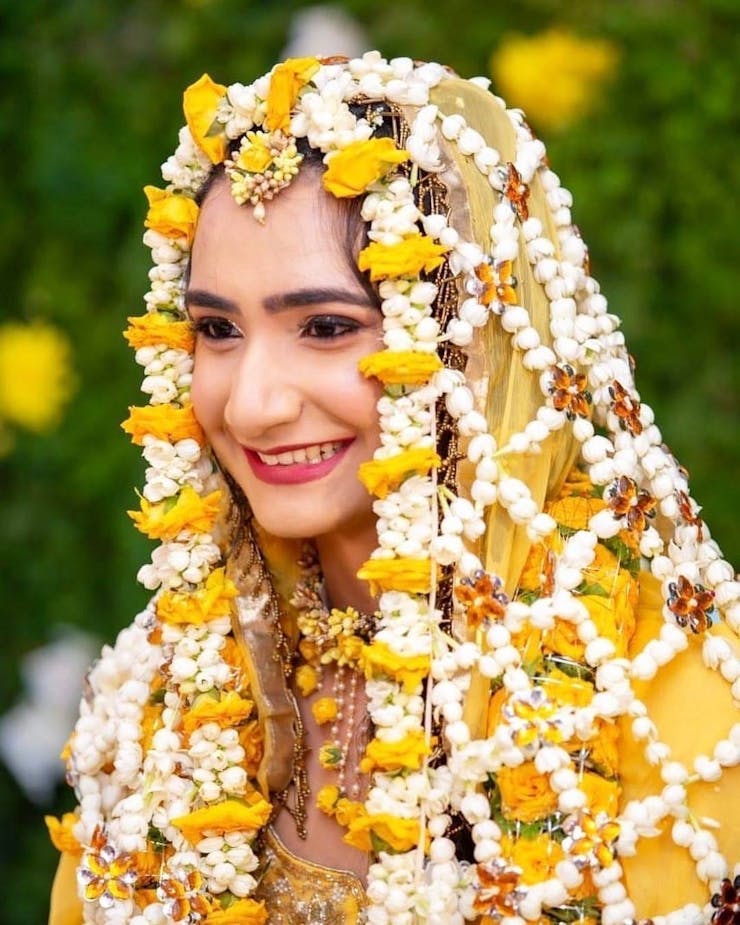 13. Floral Passa
With the huge comeback of the statement Passa jewelry in Indian weddings, brides are looking for a classy and subtle floral Passa design that can make them elegant brides. The gorgeousness of contrasting shades like pink and yellow looks great on a daytime event like the Haldi ceremony.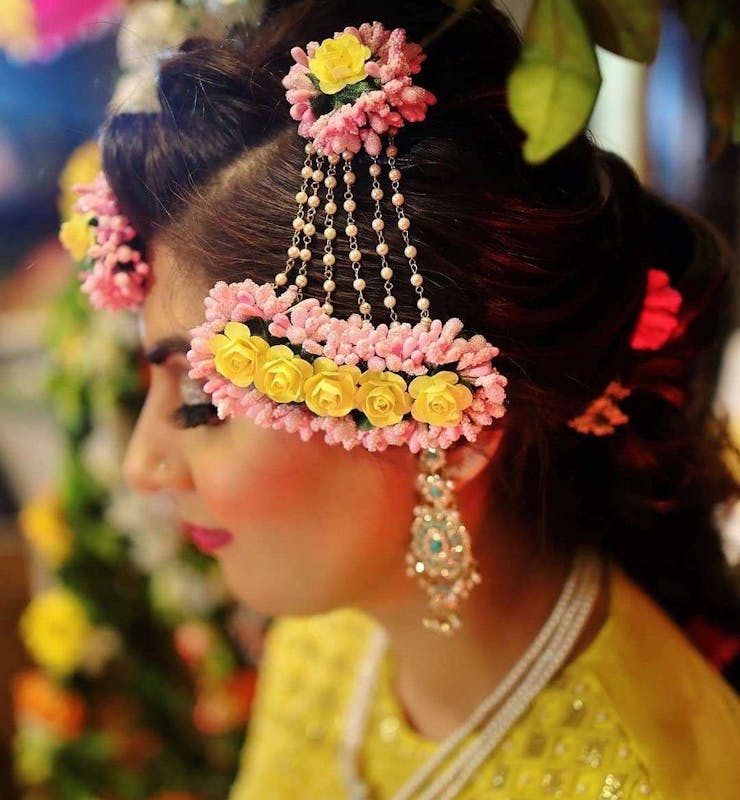 14. Floral Tiara
This haldi ceremony jewellery for bride adds an amazing grace to the Haldi look of the bride. The mesmerizing combination of white and pastel shades tiara looks wonderful both on the ethnic wear and a western gown. Decorated with multiple flowers and floral buds this floral tiara will help you to steal the limelight of your mehndi function.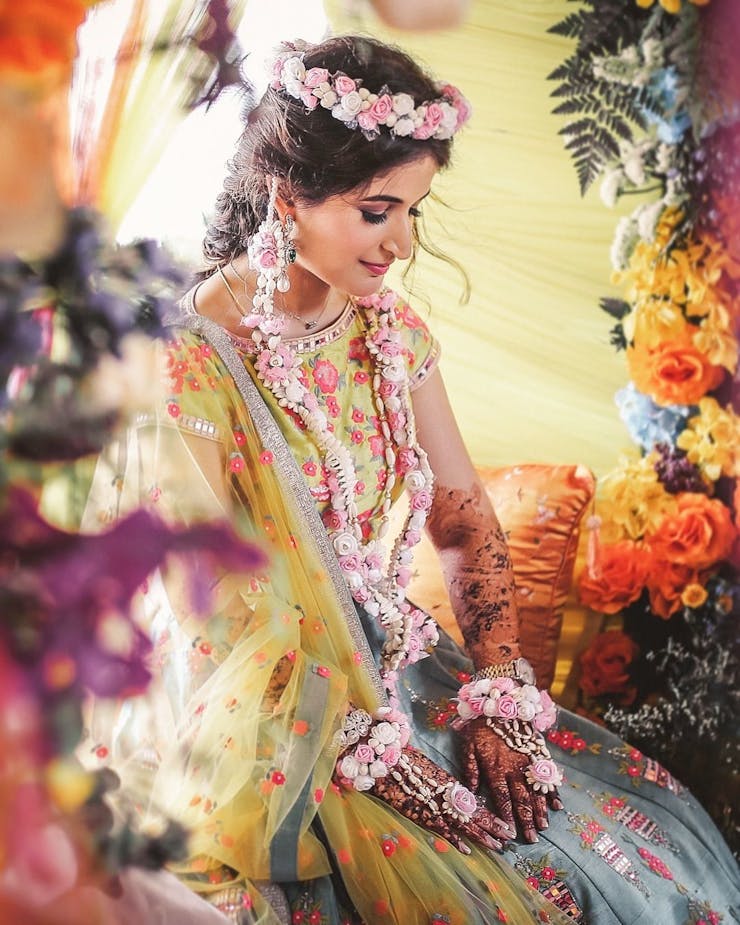 15. Floral Choker
A floral necklace for haldi function like a choker increases the authenticity of your simple look. The light weighted choker made of fresh flowers like roses or jasmine adds a beautiful twist to your Haldi outfit. Moreover, the refreshing smell of these pretty flowers can provide pleasure to everyone around you.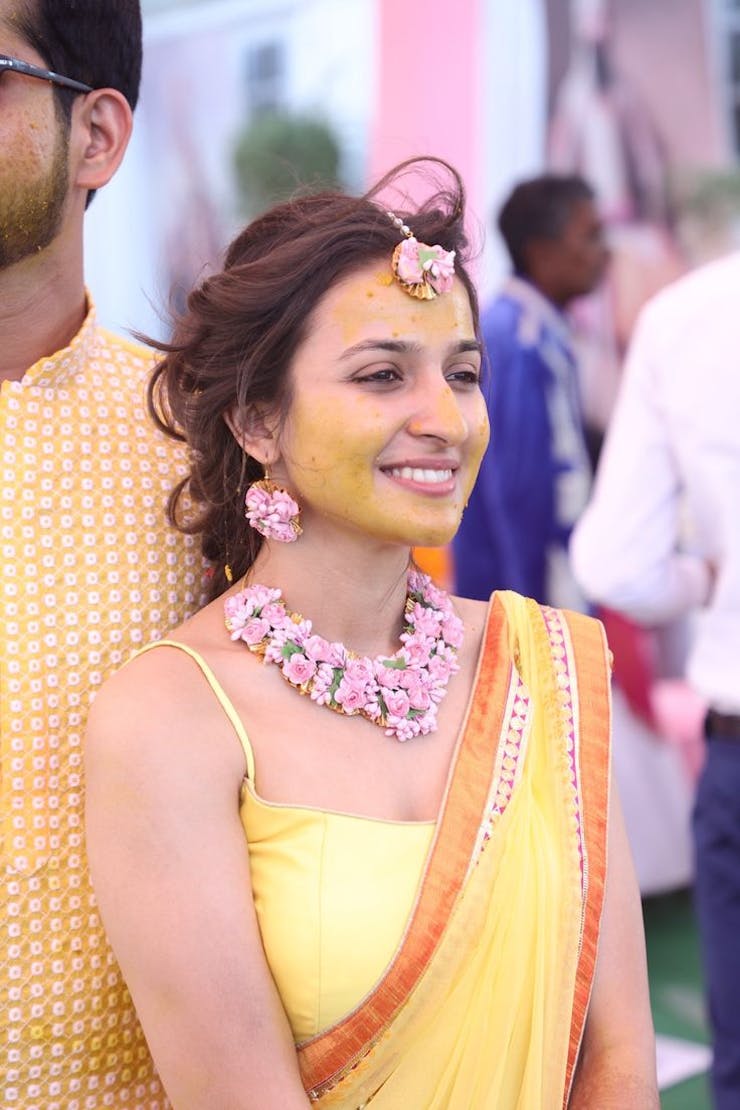 These Haldi ceremony flower jewellery can offer you killer looks and make you the most attractive bride of the year. So without thinking more get your hands over this wonderful floral jewelry collection.