New & Trendy Bridal Mehndi Design Ideas 2022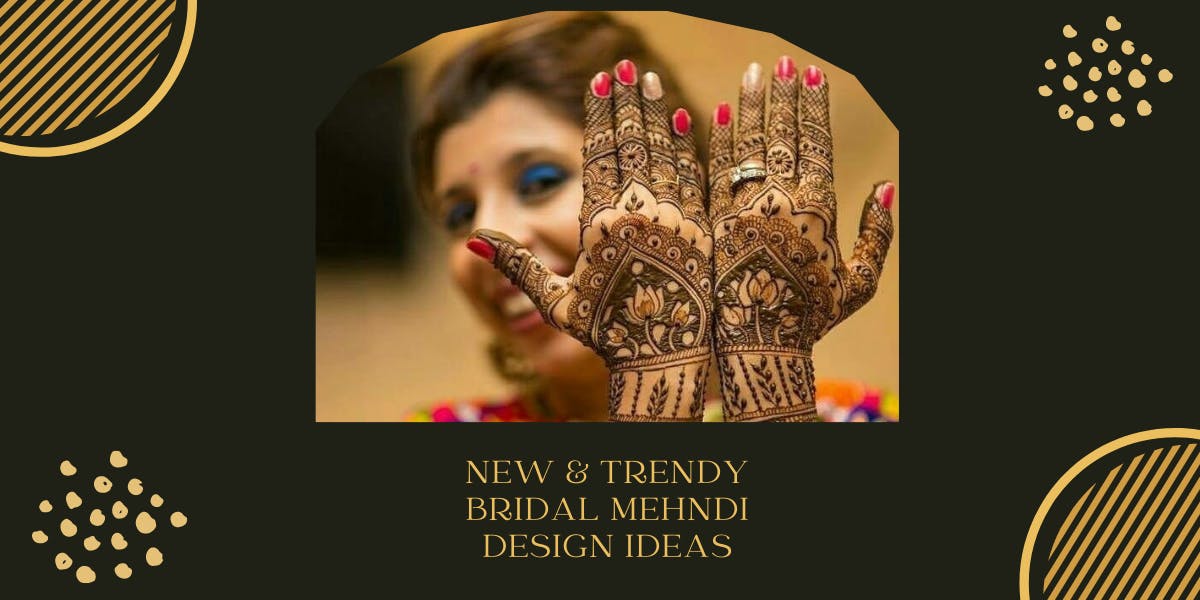 Explore here some stunningly beautiful bridal mehndi designs to rock your bridal mehndi look and make a style statement on your wedding day.
Mehndi is an ancient form of beautiful body art that was originated in ancient India. The usage of mehndi in Indian weddings dates back to the Vedic period. Applying mehndi in a bride's hand is an age-old tradition that is considered a good omen. The deep color of mehndi represents the deep love and affection between the couple. The Indian mehndi ceremony is a fun-filled and musical celebration, where the hands of Indian brides are decorated with beautiful mehndi designs. With the passing of time, there have been many new changes made in Indian mehndi designs that are clearly evident in kolkata wedding photography. Indian brides, these days are creating beautiful bridal stories by documenting their mehndi-laden hands through creative wedding photography. With the increasing number of henna designs trending in the bridal fashion world, one might feel it hard to choose perfect henna designs. To clear your doubts, we have curated a list of some gorgeous bridal mehndi designs to create a style statement in your mehndi ceremony.
1. Full Hand Mehndi Design
The full hand mehndi looks absolutely gorgeous on a bride's hand. The neat curved pattern, dots, and meshwork are examples of a creative masterpiece. If you want to go contemporary on your mehndi ceremony then this striking mehndi design will be an ideal option for you. We love the aesthetically charming band made of meshwork and semicircular patterns.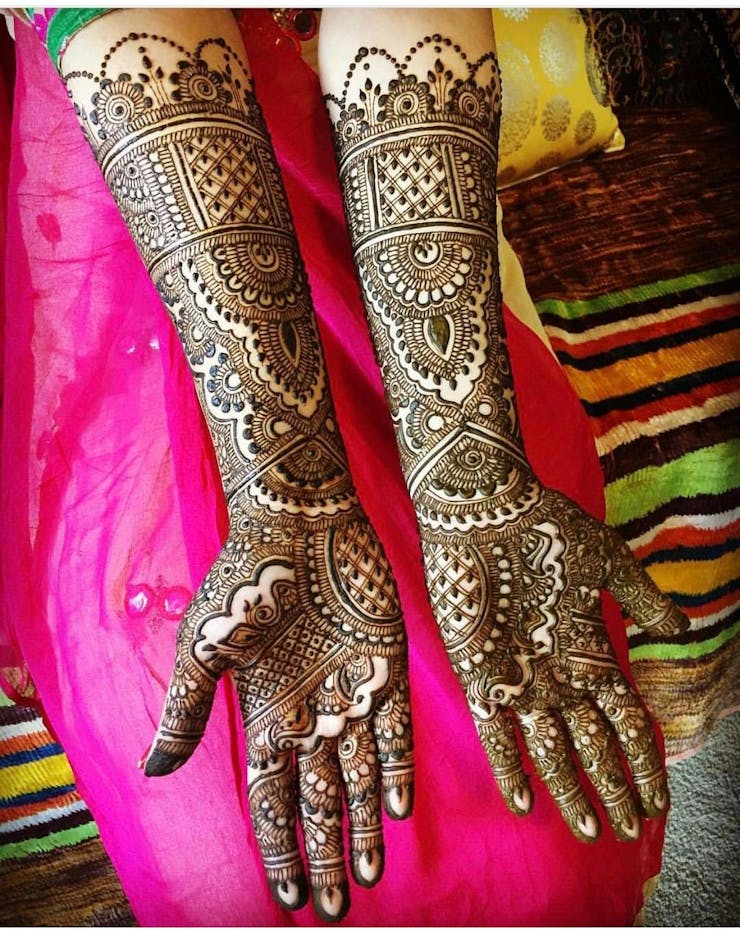 2. Peacock Mehndi Design
Could there be anything more beautiful than having this graceful peacock design on your adorable hands? Let the beauty and elegance of this pretty bird accentuate the charm of your mehndi look. The intricate design peacock on your wrist area is truly a magnetic element in your beautiful bridal look. Despite the intricacy of this stunning peacock design, it can easily grab the attention of everyone.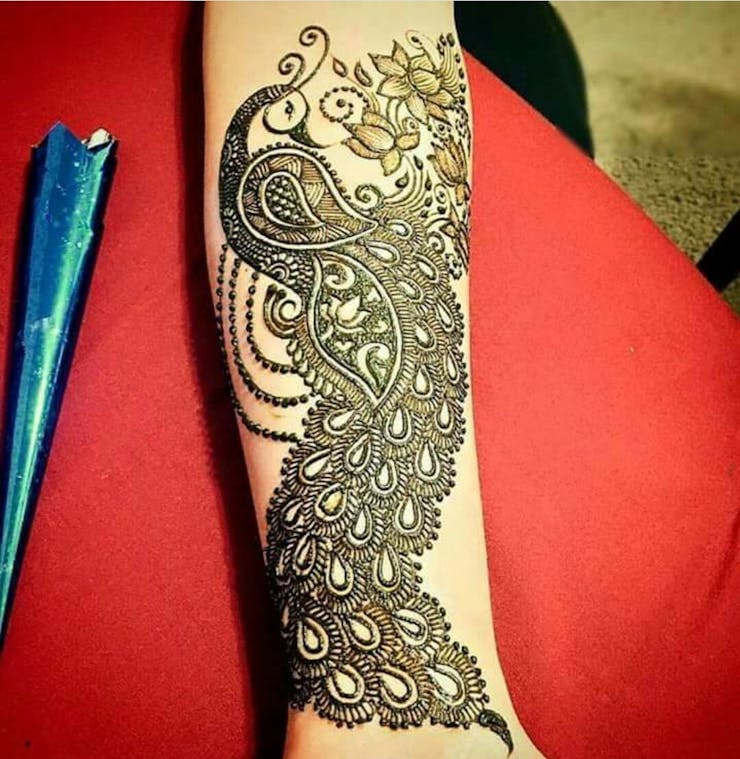 3. Synchronized Mehndi Design
If you want to make your mehndi design more interesting then you must try the symmetrical or synchronized bridal mehndi designs. Using floral motifs on your hands makes your design incredibly beautiful. If you want something extra then you can add a unique twist to this design by including paisley motifs. Make a beautiful memory of your gorgeous bridal look by hiring a talented and passionate wedding photographer in kolkata.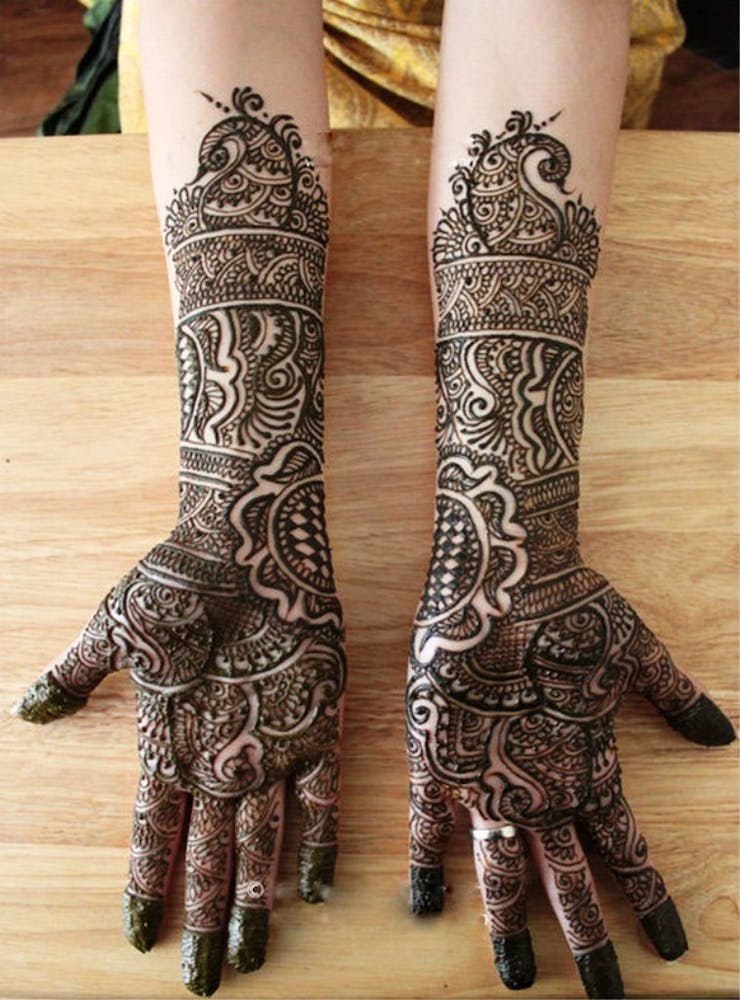 4. Lotus Motif Mehndi Design
Flowers like lotus are considered a divine element in India. Hence designing this breathtaking beautiful flower in your bridal hand mehndi adds a classic touch to your hands. This impressive design created with bold mehndi strokes and meshwork is perfect for a modern bride. These wonderful henna designs will look great with a green mehndi dress for bride.
5. Bride & Groom Mehndi Design
Take your mehndi design a notch higher with this adorable dulha dulhan portrait on your hands. We are stunned by the creativity of the mehndi artist who has depicted a beautiful story of an Indian wedding over this bride's hand. From divine lotus to traditional Kalash, dholkis and the breathtaking sindoor ceremony make this beautiful arch one of the best full hand mehndi design for wedding.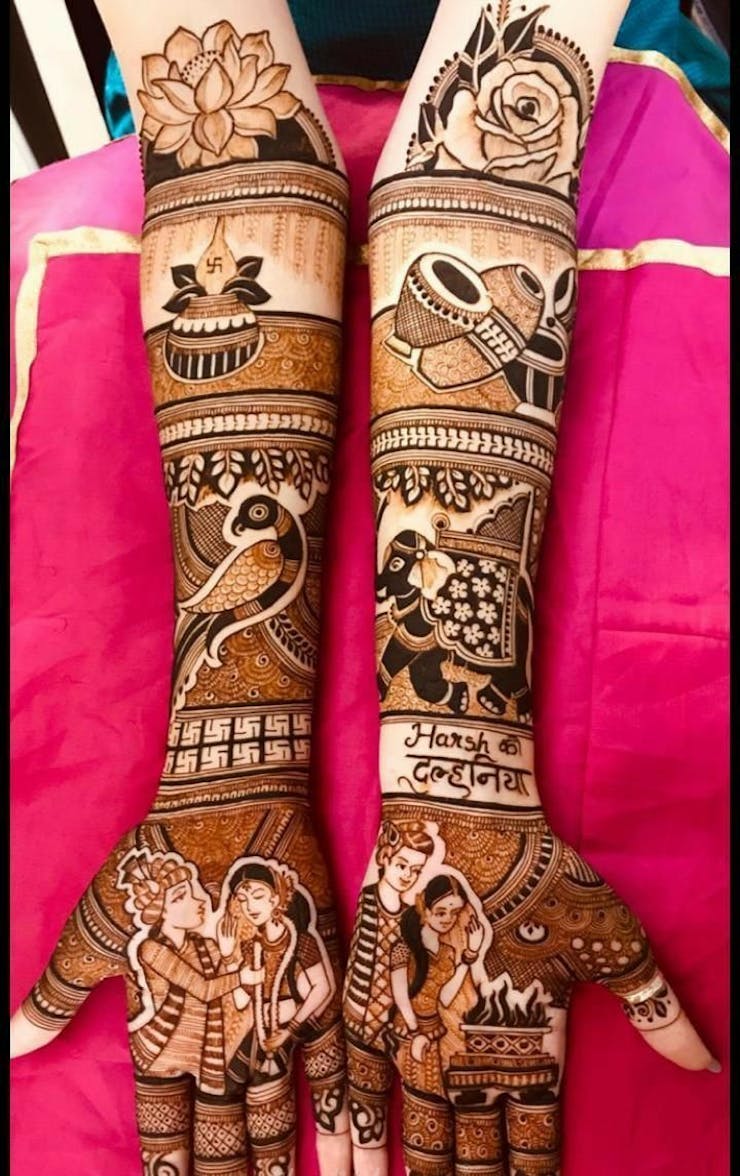 6. Floral Mehndi Design
Floral mehndi designs are probably the most elegant and everlasting henna designs. Floral mehendi design for bride is simply a visual treat to the eyes because of their whimsical vibe. The alluring floral motifs and jaal work can add glamour to your ethnic outfit.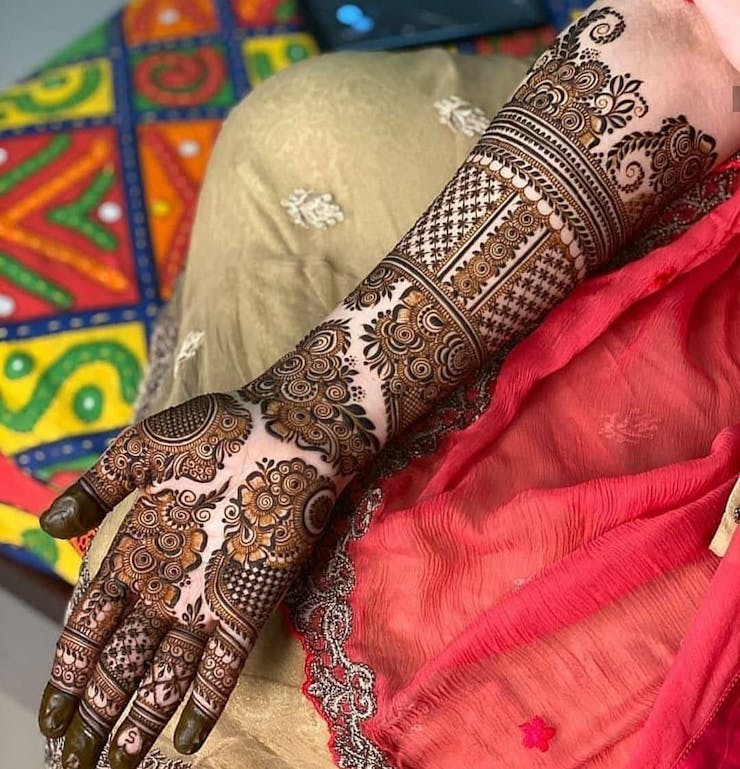 7. Paisley Mehndi Design
The Arabic paisley for the bride is the most popular and traditional bridal mehndi design. Here the mehndi artist has incorporated numerous beautiful motifs like peacock, lotus, leafy vines, and bird cages to depict a beautiful nature story in the bride's hand. So if you are a nature lover then you can also try this kind of over-dramatic paisley design.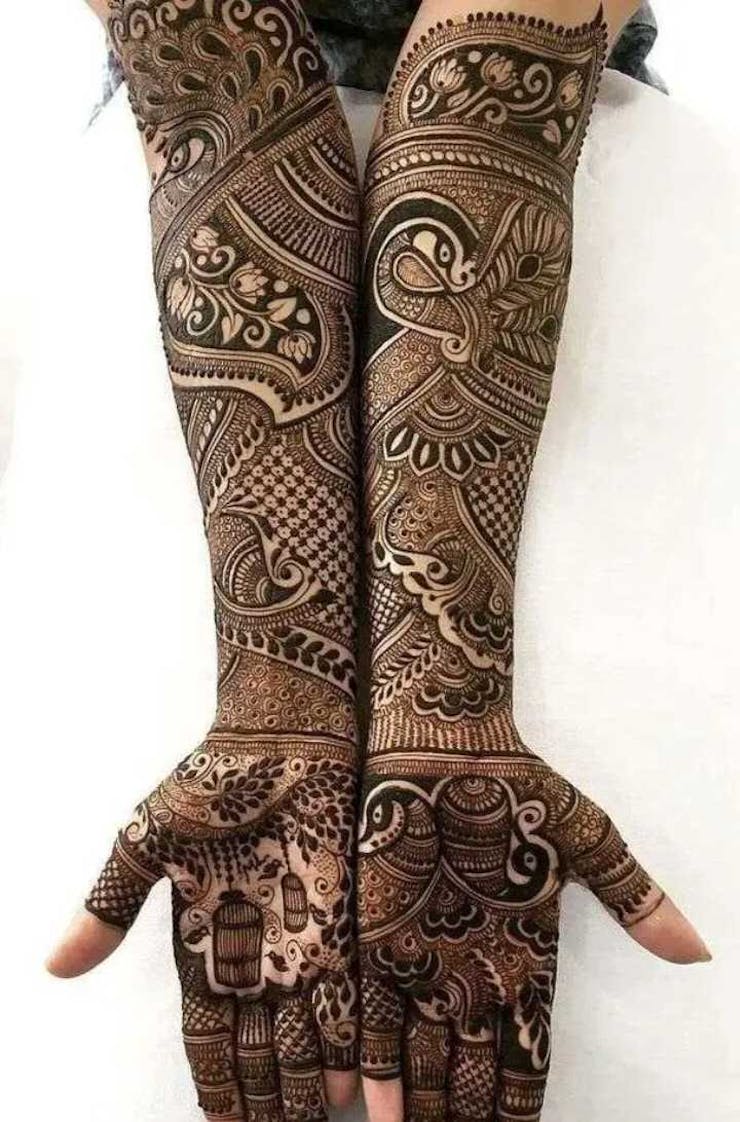 8. Circular Mehndi Design
The popular mandala designs or circular patterns are back the trends. These neat and clean circular motifs are the most simple bridal mehandi design. These leafy vines and circular patterns on the entire hand can be a show-stealer in your wedding day look.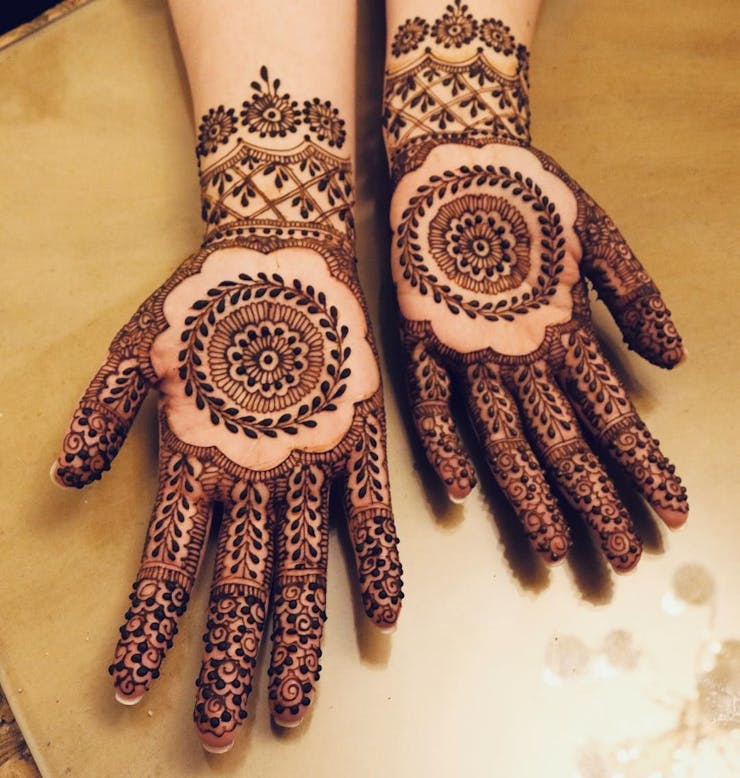 9. Back Hand Mehndi Design
The backhand mehndi design is the latest trend that never leaves any chance to amaze everyone with its beauty. Here the bride has opted for a simplistic and creative mandala pattern for her backhand mehndi. If you are opting for a minimal bridal look then this simplistic back hand mehndi design for bride is an ideal option.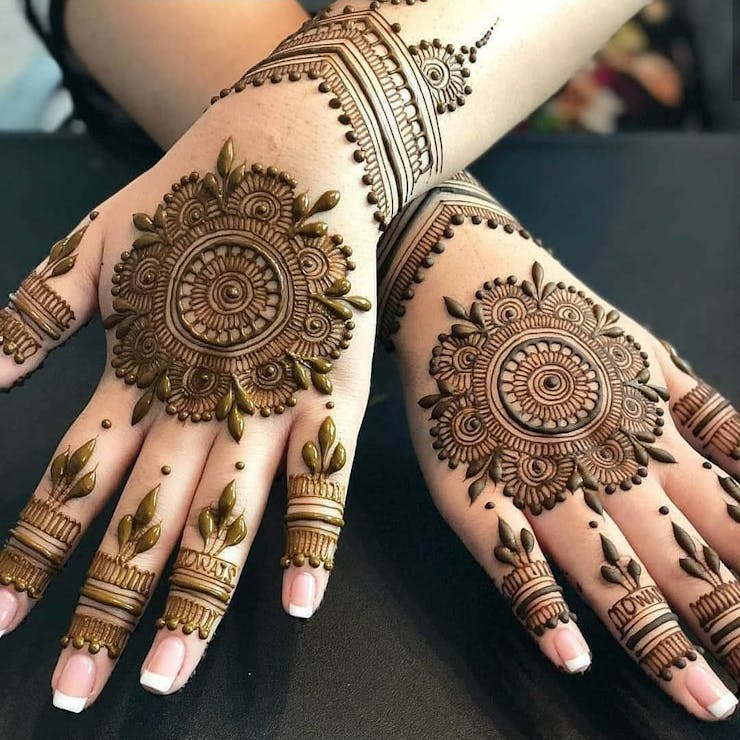 10. Personalized Mehndi Design
Modern brides love to experiment with something new and fresh to accentuate the beauty of their bridal look. A personalized mehndi design is a newcomer in the fashion world of modern brides. This latest bridal mehndi design is popular for its uniqueness and creativity. You can ask your mehndi artist to draw love stories or couple portraits on your hand.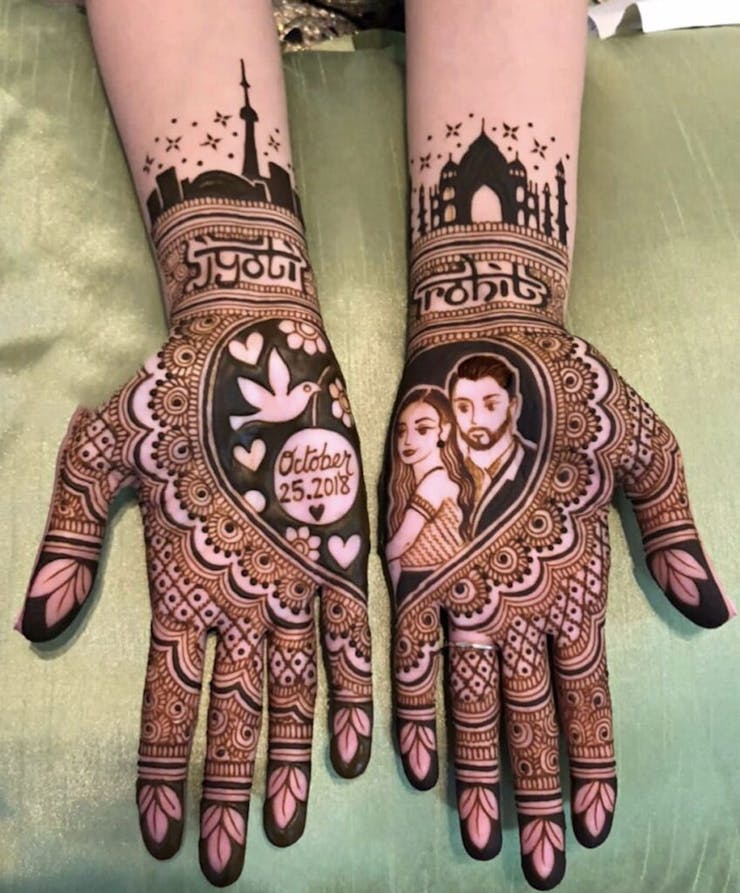 11. Minimal Leg Mehndi Design
If you want to keep it simple and elegant you can try the stunning jaal pattern to adorn your beautiful legs. This simplistic jaal patterns design intricately looks fantastic and pleasing to the eye. Moreover, this kind of stylish leg mehndi design looks more like a stunning accessory on your adorable feet.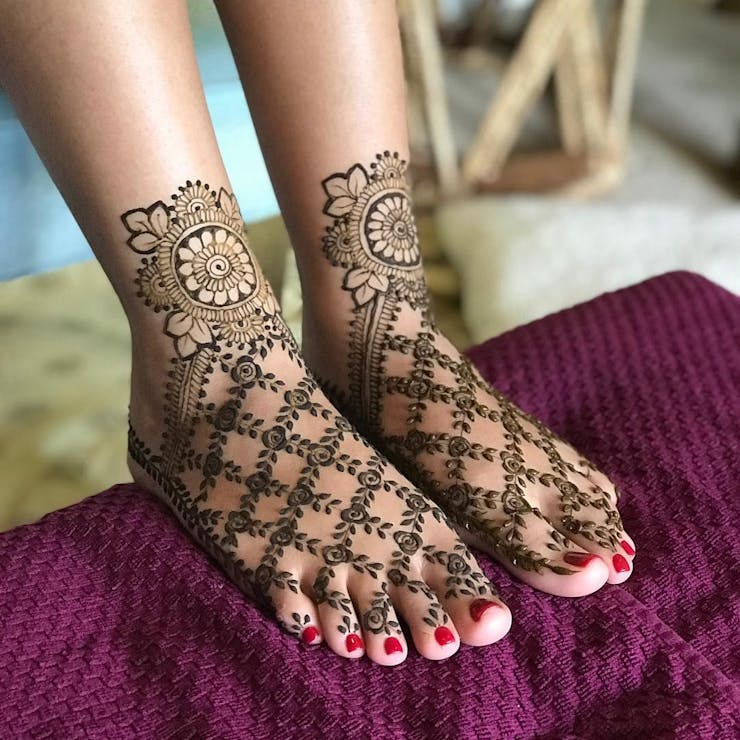 12. Love Story Mehndi Design
This cute and creative bridal mehndi design has truly gone to our hearts. Here the mehndi artist has recreated a love proposal story on the bride's hand. You can also portray your couple ship goal through this wonderful love story mehndi design on hand. This is a truly romantic way to impress your better half.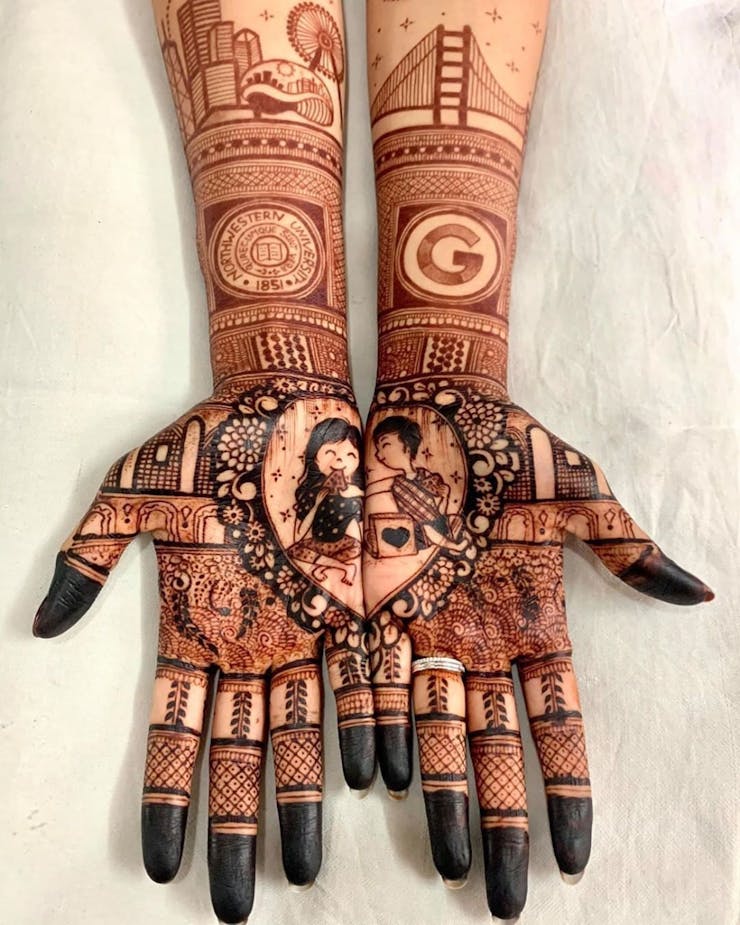 13. White henna Mehndi Design
Ditch the traditional henna patterns and opt for these white mehndi designs to steal the limelight of your wedding event. The intricate design of henna patterns and the addition of glittery stones on the bride's hand are making this design a visual treat for the eyes.
So, these are some utterly gorgeous bridal mehndi designs that are trending around the globe.